The new popup course review feature in Academy LMS version 1.6.1 is designed to help students provide feedback on the course they have just completed. This feature will be triggered when a student finishes all the lessons in a course and clicks on the "Mark as Complete" button.
Or the "Complete Course" button on the course home page.
After clicking on "Complete Course," a review popup will appear.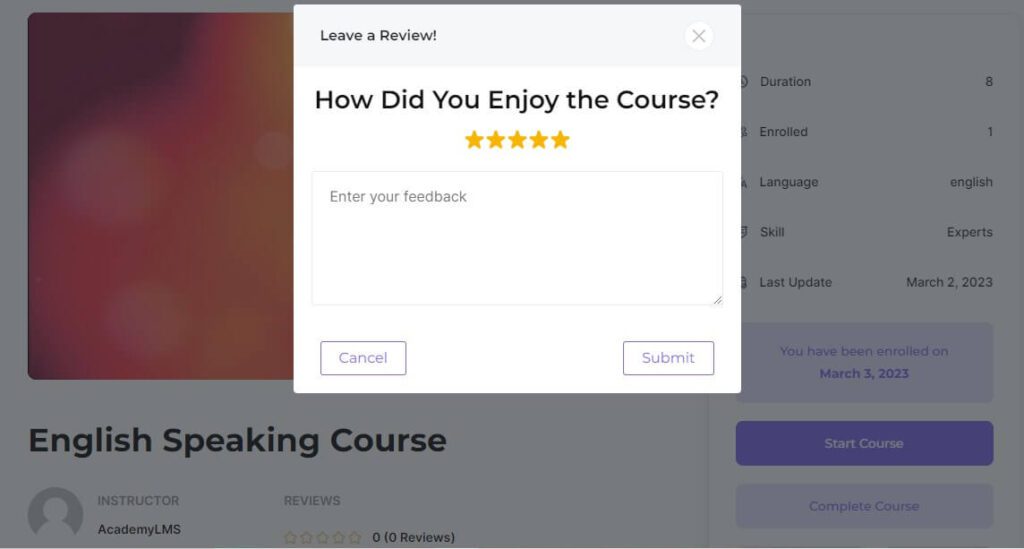 When the review popup appears, the student will be prompted to provide a rating for the course on a scale of 1 to 5 star. They will also have the option to provide a written review of the course, describing what they liked or didn't like, and making any suggestions for improvement.
In addition, the review popup will ask the student if they would recommend the course to others. This is an important question because it can help instructors and course creators gauge the overall effectiveness and popularity of their courses.
Once the student has submitted their review, it will be visible to the instructor and other students who are enrolled in the course. This feedback can be used to improve the course, and instructors can also use it to showcase positive reviews on their course page or marketing materials.
Overall, the review popup feature in the Academy LMS is a great way to encourage students to provide feedback on their learning experience and help instructors improve their courses.
If you are interested in asking questions about the popup course review for Academy LMS, then please join our Facebook community and follow us on Twitter for the latest updates. Also you may come to our support.