Zoom is a web conferencing software that allows video conferencing and screen sharing with multiple people from any device. Zoom integration is highly useful for online teaching. Academy LMS now seamlessly integrates with Zoom. Zoom offers great features for live video calling, screen sharing, and video recording, which will significantly increase collaboration between instructors, and students.
The Zoom integration process with Academy is very easy. You will need these two plugins installed and activated in order to use Zoom Integration:
Although Zoom (both free and pro) can be linked with Academy LMS Pro, the pro version of Zoom is not offered as part of Academy LMS. If you wish to use Zoom's pro capabilities, you must buy the pro edition of Zoom individually.
Create a Zoom Account #
You must create a Zoom account in order to proceed. Register on Zoom's website to create an account.
You must first register an account before you can connect Academy LMS to Zoom with an app. Visit their App Marketplace and select the "develop" option to do this.
Next, choose JWT as your app's type. After providing some basic information, such as the name of the developer, the name of the business, the email address, etc., you will be asked to give the app a name.
All of your apps will be activated once you finish them. You can access your freshly validated App Credentials once your app is ready.
Link Zoom to the Academy LMS #
Now it is time to connect Zoom to the Academy LMS. To do that, you have to enable the Zoom add-on. To enable the Zoom integration feature, go to Academy LMS > Add-Ons and enable the Zoom add-on.
After enabling it, click on the setting icon, and you will be in the Zoom integration setup option. Also, a Zoom menu will be added to your Academy LMS.
By clicking on Zoom and Setup in the Academy LMS Zoom, you can also find the Zoom Setup option like this below.
All that's left to do is copy and paste the API key and secret key from the JWT app you just made into the appropriate sections of the Set API section, then save your modifications.
Clicking on "Save and Check API Connection" finished the Zoom integration configuration setup.
Zoom Settings #
Now you have to configure the Zoom settings.
Join Before Host: Students will be able to join before the host in this situation. applies only to regularly occurring or scheduled gatherings.
Host Video: When the host joins a meeting, the host's video will begin playing.
Participants' Video: When they arrive at the meeting, participants' videos will be enabled.
Participants: Will first have their audio muted when they attend a meeting.
Enforcing Login: Will prevent anyone who is not logged into Zoom from joining the conference.
Recording Settings: You can decide what level of student access to recordings you want to grant them. Options consist of:
Local Drive
Without Recordings
Zoom Cloud
Create a Zoom Meeting #
Now all the basic things you have done, it's time to create a Zoom meeting. To create a Zoom meeting, click on "Add New Meeting."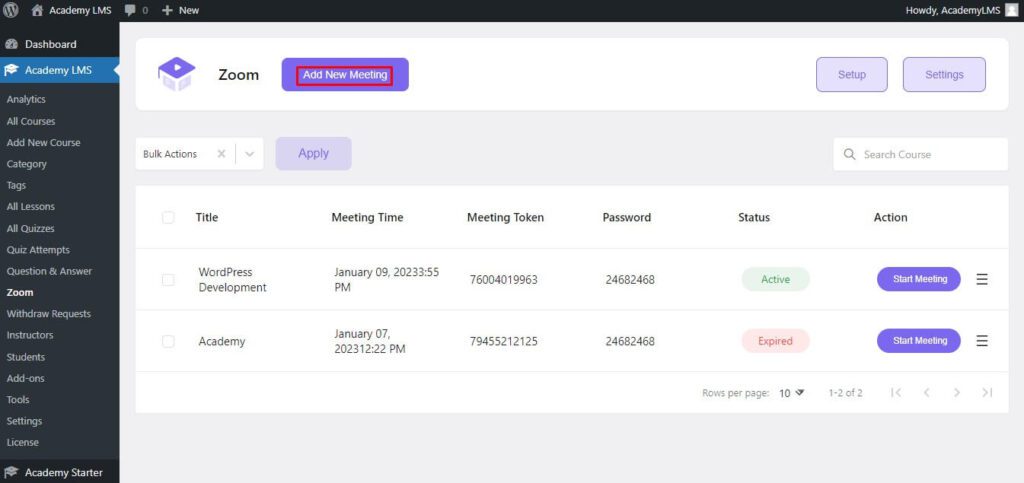 After clicking on "add a new meeting" the Zoom Meeting form will open for you to enter the meeting information listed below:
Meeting Title: Give the meeting a title here.
Meeting Content: Add your meeting content here.
Meeting Time: Pick here the meeting time and date.
Meeting Duration: Determine how long the meeting will last. Remember that if you use Zoom for free, meetings can only last for 40 minutes.
Time Zone: Tell people what time zone the meeting is in.
Auto Recording: Indicate the meeting's recording type. Local will use the user's PC to store the meeting, while Cloud will utilize Zoom Cloud Storage. Alternatively, you can choose "No Recording" to simply turn off this option.
Password: Set a password to prevent unauthorized individuals from entering the meeting. Only students with the appropriate authorization will have access to the Zoom meeting.
Meetings Host: Here it will show the email of the user who opened the account on the Zoom website and brings to the API and secret key.
Finish off by clicking on the "Add Meeting" button. You'll then see this meeting appear under All Meetings in the Zoom Panel.
If you need to, you can edit the meeting time or delete anything you need.
Add Meeting to the Course #
Now you can add your newly created meeting to any of your existing courses. To do that, open the course where you want to add the meeting.
After opening the course, go to the course builder section and add a new topic. Give a topic name and summary.
Now click on "Select Item."
After clicking on the selected item, you will see a zooming option; select it.
Now that you can see the meeting that you created, you can either mark the box to add the meeting to your course or add a new meeting by clicking "Add New Meeting." If you click on "add a new meeting," a window will pop up here like the previous one. So fill in all the information again.
As usual, finish off by clicking on the "Add Meeting" button after finishing all the information. After finishing all things, close all modals, go back to the main page of your course and click on the Update button to add the meeting to your course.
To view the meeting in your course, click on the permalink and launch the course; you will notice that you added a meeting, which will appear as a lesson and display the meeting's start time.
This is all about Zoom integration, if you need to know more about Zoom meetings, then join our Facebook community to ask questions and follow our Twitter account for our all-new update.