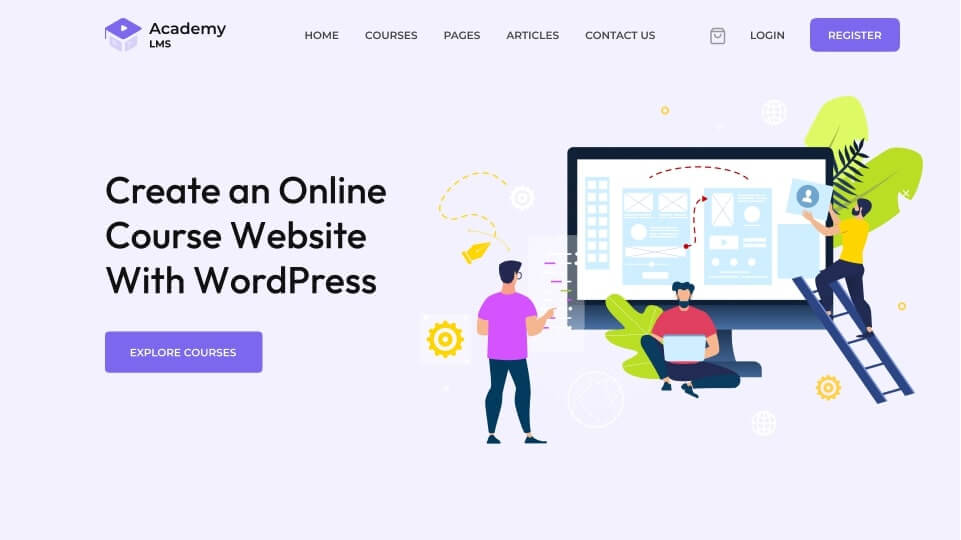 How to Create an Online Course Website on WordPress
Do you want to create an online course website with WordPress?
You can create an online course website, but it can be both exciting and challenging. But with WordPress, creating any type of website is as easy as creating an online course website. So, if you want to create an online course website, you should use WordPress.
In this article, we will show you how to create an online course website with WordPress. We will also cover some important tips and plugins that you will need to create a successful online course website.
Why use WordPress?
I know it's not your thing, but I think it's a huge mistake to not use WordPress to build your online course website.
WordPress is an open-source tool for building sites and blogs. It has a large community, making it easy to find someone to help you if you need it. Without needing to build a site from scratch, WordPress is an excellent content management system that allows you to easily create an online course website, a blog, a portfolio, or even a full-blown e-commerce site.
WordPress is the most powerful and popular open source platform on the web. More than 43% of all websites use it. It's free, simple to use, and has created millions of websites. It's easy to install, configure, update, and maintain. These features make it the best choice for creating an online course website.
Why Create an Online Course Website?
You should absolutely create an online course website if you are an educator or teacher, or if you just want to share your expertise.
Another reason for creating an online course website is that you can make money from your knowledge. You want to teach your students everything you know. You can do it online and make money without leaving your home. Teach students as many things as you can.
The more you teach, the more money you can make. Another reason you want to create an online course website is to teach students while they are still in school or at home. When they need the knowledge, they can look at the website and learn from it at any time.
You should also get paid for your knowledge and share it with others. And the best part about creating an online course website is that it does not necessarily need to be about creating an online course, it could be about anything. For example, you could create a website about how to play the guitar, and that could be your online course. But creating an online course website brings in the cash.
What is an Online Learning Management System?
A learning management system (LMS) is a piece of software or web-based technology that is used to organize, carry out, and evaluate a particular learning procedure.
It is utilized for eLearning procedures and, in its most basic form, consists of two components: a server that handles the essential functionality and a user interface that is used by administrators, instructors, and students.
An instructor can typically create and deliver content, track student participation, and evaluate student performance using a learning management system. A learning management system might also give students access to interactive tools like discussion forums, video conferencing, and threaded discussions.
Benefits of an LMS
To create an online course website, you will need a learning management system (LMS) to manage your course website. Learning management systems offer a range of advantages to users, regardless of the sort of business that employs them. An LMS, for example, may help a company save time and money.
Instead of forcing students to take time out of their day to go and sit through courses or training, the LMS allows them to finish the coursework when it is convenient. Costs can also be reduced by foregoing the need for instructors, training days, training materials, travel expenditures, and site hire.
Learning management systems also provide the following advantages:
The ability to keep track of user development and performance;
Increased accessibility to online education without geographic restrictions;
The capability of customizing online training and learning;
The capacity to quickly and effectively update eLearning activities and modules;
The simplicity with which one can confirm the efficient distribution of online training and learning materials;
Users can put off tedious, repetitive tasks like user registration and certification distribution by using automation to concentrate on more crucial activities.
Finally, another significant advantage given by LMSs is centralized learning. It enables an organization to securely manage and store all large data sets in a single spot. This makes it easier for teachers and administrators to update and manage instructional materials. It also contributes to the creation of practical training that is consistent across the company. Furthermore, most LMS incorporate extensive encryption technologies to help ensure data and content security.
Install Academy LMS
The Academy LMS is a WordPress plugin that helps you create an online course website with WordPress. It provides you with a complete suite of tools to create, deliver, and manage online education. It is a learning management system that comes with a variety of features.
It is a perfect platform for those who want to take the lead in the industry of online education. It has a rich selection of tools and applications that allow an individual to create, manage, and deliver a course online.
Like all other WordPress plugins, you can install Academy LMS directly from the WordPress repository or download Academy LMS from WordPress.org, upload it to your WordPress dashboard, and install it. Remember, Academy LMS is free to use.
Open your dashboard and click on "Plugins." Click Add New and type Academy LMS in the search box. From there, click on Install, and last, click on Activate.
After clicking on "Activate," initially, you have created an online course website. And the following thing will be added to Academy LMS in your WordPress dashboard.
WordPress Themes Install for LMS
Now it's time to install a theme for your online course LMS site.
A WordPress theme is a collection of files and code responsible for your website's presentation. When the user visits your website, their web browser loads the WordPress theme files and code to display your website to the visitor in an aesthetically pleasing format based on your chosen theme.
We made it easy for you to choose a theme for your LMS site. Because we have our own theme, you don't need to worry about your online course website theme. From the WordPress dashboard, click Themes under the Appearance menu. Then click on Add New and type in the search box 'Hello Academy', install and activate the theme.
Now your theme installation is successful for your online course website.
LMS Website Templates: Academy Starter Templates for WordPress
LMS Website Templates for WordPress are there for you to create your very own online course website. With a few clicks of the mouse, you can have a professional, appealing, and user-friendly-looking site to showcase your online course.
With a single click, the demo importer of free Academy Starter Templates will help you to create an online course website that looks professional. So, install Academy Starter Templates on your WordPress dashboard and open the Academy Starter. You will see there are 3 templates Marketplace, University, and Instructor. Choose your preferred one and click on Import Demo. It will take a few minutes to complete.
After completing the import demo, your online course website will look like this. And we have a complete guide on how to use Academy Starter Templates.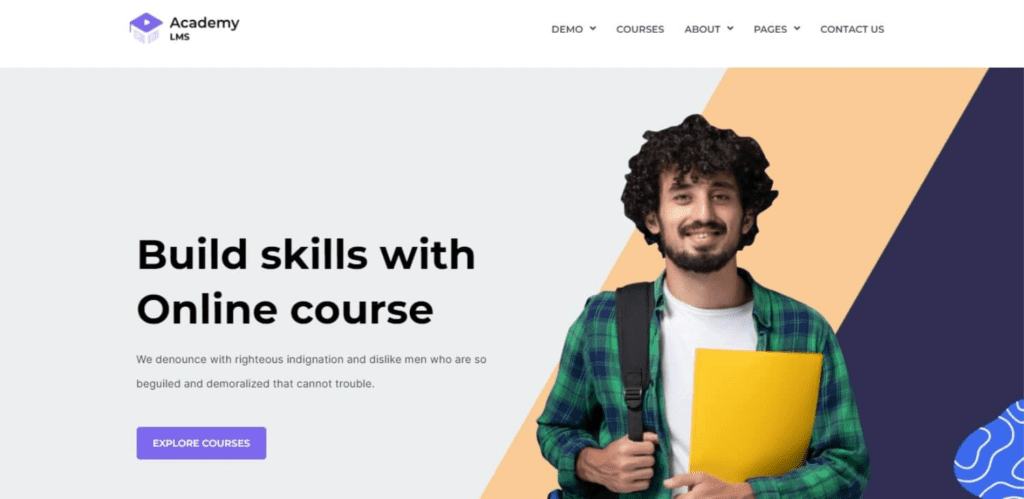 Congratulations! You have successfully created a professional-looking online course website for yourself. It's time to create a course for your online course website. We have complete documentation about how to create a course and make it a paid course.
Final Thoughts
Everything you need to know about building an online course website is covered in this article. We discussed the significance of creating an online course website and why you must build one.
We hope you enjoyed the article about creating an online course website. If you have any concerns about this, you can ask questions about it by joining our Facebook community, and also follow us on Twitter for our latest updates.
FAQ: Frequently Asked Questions about the LMS
Is Academy LMS free to use?
Yes, absolutely. Academy LMS is free to use. You can create and sell courses without any cost by using Academy LMS. But in the future, we will add some premium features. 
How do I run an online course?
By building a WordPress site and utilizing an LMS plugin like the ones mentioned above, you can run an online course with ease. Once the plugin is installed, you can use it to build a course that includes text, images, videos, and other multimedia.
Will people buy my online course?
If you are an expert on the subject and can persuade others to take your course, people will buy your online course! A great way to share your knowledge and make some money is by setting up an online course website.