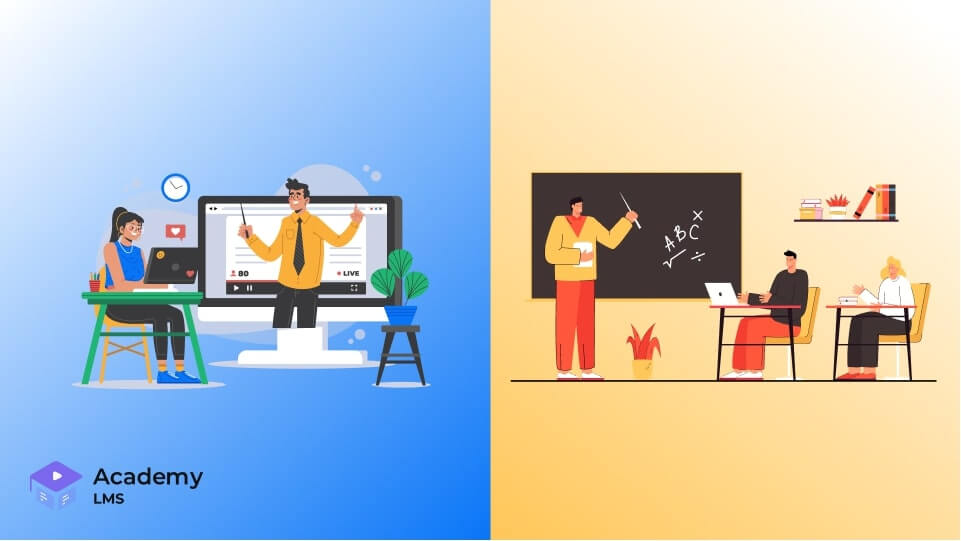 Is Online Education Is Better Than Traditional Education?
Atanu Das
May 1, 2023
Online education, commonly referred to as remote or distant learning, has been more popular over the last several years. With the advancement of the internet, technology, and learning management systems, online learning options have undergone a significant transformation. You can get a top-notch education without being present in the classroom if you have access to the internet.
Online education is increasingly taking the place of the traditional education process. In fact, you'll be astonished by the exponential growth rates for online learning. Around 75% of US learning institutions relied on online learning platforms in 2021, and 98% of universities have moved to online classes since 2020.
In typical educational settings, you need to sit through lengthy lectures, take notes, and often rely on repetitive memory. At the same time, eLearning offers additional opportunities for peer-to-peer interaction and a flexible learning environment. Although the choice of educational medium is entirely up to you, in this article, we will answer the question Is online education is better than traditional?
Online vs. Traditional Education Factors
It is certain that online education is becoming much more popular, but there are some benefits to traditional classrooms. The teacher-student interaction is not strongly available in virtual classrooms. But that's not the only factor in deciding whether the online learning environment is better than the traditional one or not.
According to the latest research, by 2025, the worldwide e-Learning sector might be worth more than $325 billion. Since the pandemic, 73% of US students have wanted to continue eLearning. Moreover, 90% of companies are providing their staff with access to some kind of online training. Additionally, it is projected that by 2025, the worldwide e-learning industry will be worth $350 billion.
One of the most important benefits of an online class is easy accessibility to any form of degree or certificate. It makes no difference whether you work a full-time job, need to take care of your family, or live distant from your academic institution. Learners always get increased autonomy while learning online. This is why education seekers are getting enrolled in different platforms such as Coursera, Udemy, edX, Skillshare, Udacity, and many more.
Is online education is better than traditional? To get the answer to this question, let's break down the factors. These considerations will make it easier for you to decide which educational medium is better: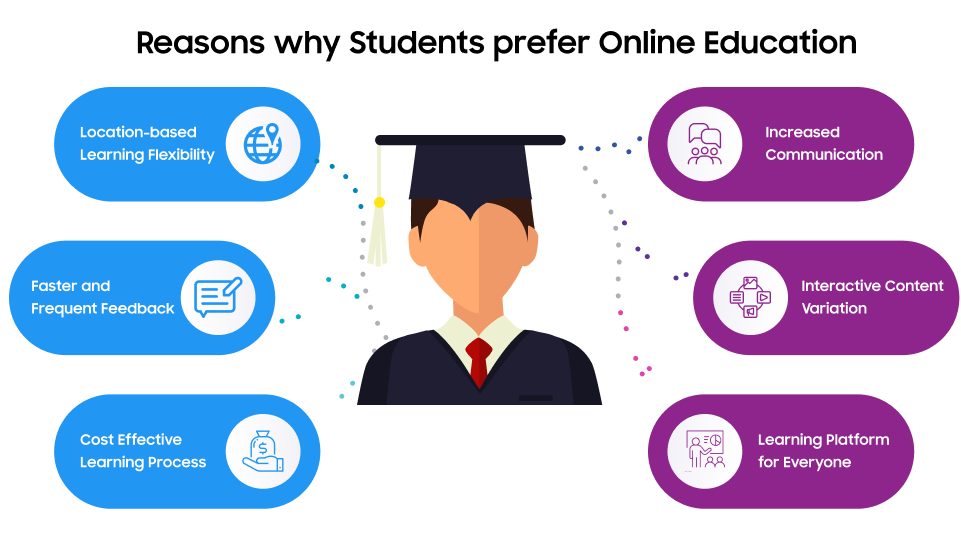 Location-based learning Flexibility
Technology has changed dramatically, making education and degree more affordable than ever. There is no limitation of borders or locations since the educational universe is now available with the help of the internet, computer, and even mobile.
Some world-class educational institutions, such as Harvard, MIT, and Stanford, are offering the opportunity to study online. They are utilizing a massive open online course system, also known as MOOCs, that includes similar study materials and teachers that you would find at a traditional institution.
Unlike the traditional education system, you don't need to move through the traffic. You can study comfortably in your room, a coffee shop, or a library. As a result, you can manage your home, job, and school all at the same time. Students can meet their deadlines more flexibly since they are selecting their preferred place of learning, doing projects attending lectures, etc.
Increased Self-management
Taking classes online gives me more time to think freely and manage everything more accurately. While studying online, students have complete control over their studies, which develops self-discipline. Also, it motivates them to manage their time properly for studying and completing the assignments.
While you are pursuing education online, nobody is watching your every move. It is up to you to manage your time and hold yourself responsible for finishing your tasks.
However, in the conventional educational system, the teacher's speed sometimes makes it difficult for students to keep up. Unfortunately, some learners struggle with learning quickly. Thus, their inquiries could go unanswered. But online education allows students to learn at their own pace.
Even if they cannot keep up the pace, there are online resources such as eBooks, video content, and blogs where they can review the study material. Thus, depending on the teacher is not mandatory for learning a topic. So, a student can actively learn, manage the entire learning process, and take full responsibility for their academic success.
Increased Interaction
What draws you to the surroundings while you are on your college campus? It may be your favorite teacher, classroom, dorm room, gymnasium, campus ground, and so on. Some individuals prefer to interact with their instructors and classmates in person, while others find that they learn more effectively in person.
You may be a social learner and don't want to miss the traditional learning opportunity. However, you shouldn't fool yourself into thinking there is no social interaction in online education. That is because eLearning has a reputation for requiring little to no engagement.
When you are online, your classmates and teachers are available at your fingertips. With software such as zoom, Google Meet, and Whatsapp, you can communicate, discuss educational topics, and collaborate on assignments as well. Whereas in a typical educational setting, you must plan a meeting and show up in person.
Interactive Content Variation
Online learning offers students the opportunity to engage with their course materials outside of the traditional classroom setting. The software that students use requires them to click, drag, drop, interact, operate, and do a lot more.
Students can access the course material from any platform and device of their preference. This is possible due to the adaptable design of the online course materials. Unlike traditional education, you are not only reading books by sitting at a table. Instead, you are exploring and studying a variety of interactive content such as ebooks, forums, blogs, videos, music, podcast, etc.
Currently, innovative upgrades to the educational system have been made via online learning platforms. Learning management systems integrate gamification, interactive quizzes, and evaluations. Since there is a reduced human touch, students are now learning more swiftly, attending quizzes more flexibly, and being graded precisely.
Faster & Frequent Feedback
In the traditional education system, teachers usually invest a great amount of time in evaluating exam papers, grading students, and checking assignments. As you can see, too much use of pen and paper is involved in the traditional education approach.
However, in the eLearning approach, it takes a very short amount of time to create and arrange a quiz. Also, evaluating a quiz is much easier since the instructor can instantly get the result when it comes to multiple choice. Sorting out errors has become simpler, even in complex test papers.
On the one hand, students can easily submit their assignments online and take quizzes flexibly. On the other hand, Instructors have the freedom to assess the quizzes and evaluate the learners whenever and wherever they want. Hence, the students are getting faster and more frequent feedback than ever before.
Technical Skills Adapting
Of course, online education is better than traditional when it comes to adapting technical skills.
In this modern age of technological advancement, having technical skills is a plus. Most companies require at least a certain level of technical skills from their employees. Unfortunately, most of the applicants do not have a minimum level of technical skills.
However, while navigating the latest software to attend class communication, quizzes, and creating & submitting assignments, learners are gaining technical skills. They are going through a process that involves repetitive technical activities. As a result, they naturally improve their technical abilities, which is a great bonus.
Cost-effective learning process
When it comes to cost-effectiveness, online education is far more cost-effective compared to traditional education. With a single device and internet connection, you are getting access to the software, learning materials, and quizzes. Moreover, there are infinite learning opportunities since you have different websites, LMS, and many more resources.
But the traditional education system is still dependent on printed textbooks that are expensive due to their production process. But digitally created and distributed eBooks are always less expensive. So, it's environment-friendly since there is no paper involved, which needs trees for manufacture.
In the eLearning method, you have multiple payment methods available that allow you to pay in monthly installments per lesson. This makes it easier for students to manage their budgets for learning purposes. In addition, you will get discounts and even free online materials online, which are rarely available in the conventional education system.
Learning Platform for Everyone
Online learning platforms welcome learners from any age or background. It's not bounded to college or university degrees only. There are courses available for everyone on online platforms where everyone can learn. Most of the time, you won't require a certificate or degree to get enrolled in an online course.
Currently, there are many kinds of certification courses available online that are totally free. You can upgrade your cv by completing your preferred course and displaying the course accomplishment badges. But traditional education is still stuck with traditional laws where students need to complete levels or classes to move ahead and must have certificates to get enrolled for higher studies.
At this point, you might be close to getting the answer to the question - Is online education better than traditional?
Work & Earning Opportunity
With the advancement of technology, the workforce is becoming more online-based. Thus, remote working and earning opportunity is increasing day by day. In the traditional education process, a proper location, establishment, transportation system, and human resource is required. As a result, the earning opportunity is not distributed and centralized in a significant location.
But learning over the internet opens a doorway for educators who are available worldwide. This is a huge earning opportunity for instructors to log into one platform and teach students worldwide. Also, authors, courses & content creators can sell learning materials using a variety of platforms online. On account of this, online education is evolving into a fantastic setting for modifying the workforce and eLearning industry.
Final Thoughts
Is online education better than traditional? Well, it's a controversial topic, although evidence suggests that both are advantageous in different ways.
The conventional educational framework has been in place for a very long time and will continue. One-to-one interaction, growing interpersonal skills, and studying in a group are all vital abilities for the overall growth of a student, and traditional education provides these opportunities for students.
We are not suggesting eliminating the traditional schools and universities in favor of online education. Rather we are demonstrating how the eLearning method can be a great alternative to the traditional education approach. Due to technological advancement, eLearning has become a robust mechanism of learning and earning. Therefore, it is wise to combine online and traditional education methods since they are more productive, economical, and effective.
We Hope you've enjoyed this article and learned a lot about the advantages of online education over traditional education. Now, it's time to introduce you to online education with the most robust learning management system - Academy LMS. join our Facebook Community and follow our Academy LMS Twitter account to learn more about the next-gen WordPress LMS.