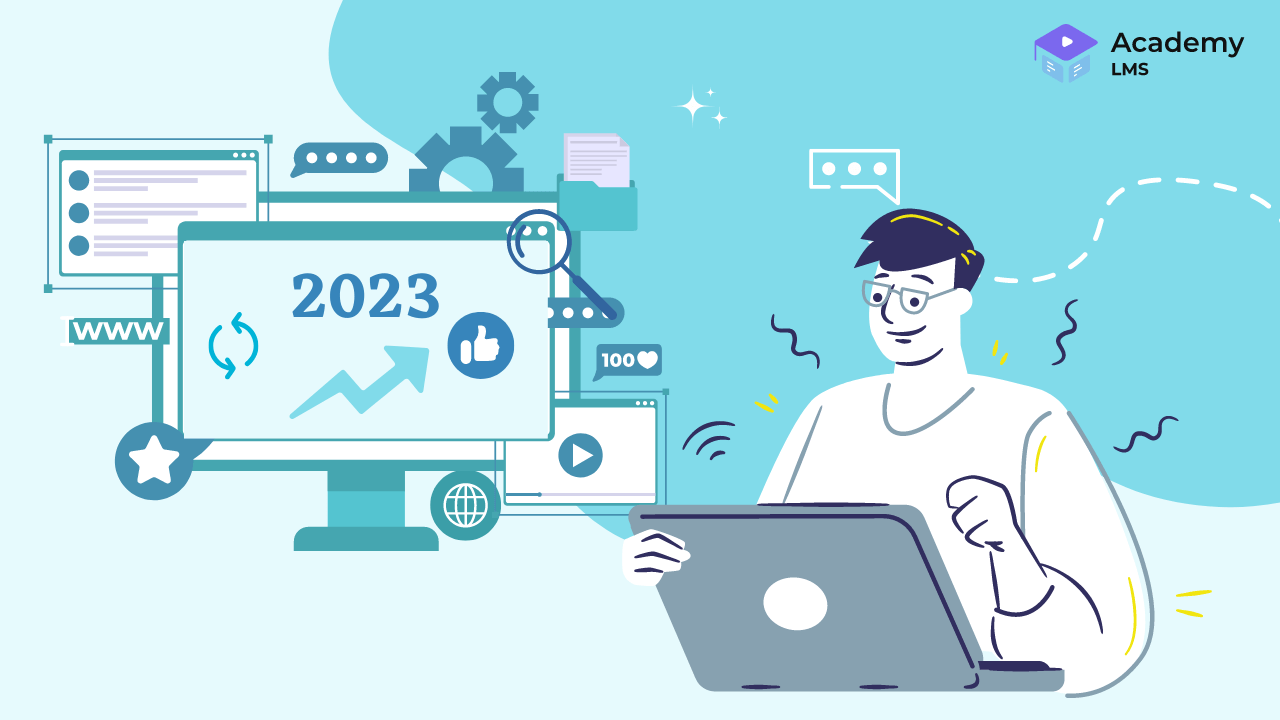 Best 5 LMS Plugins for WordPress Compared in 2023
In today's digital age, online learning has become the norm. With the increase in demand for e-learning, the need for learning management systems (LMS) has also increased. LMS plugins for WordPress are a popular choice for many because of the flexibility and convenience they offer.
However, with so many LMS plugins available, it can take time to choose the right one. In this article, we'll compare the 5 best LMS plugins for WordPress in 2023 and help you find the one that best fits your needs.
Features of LMS Should Have in the Plugin
Before we analyze the top 5 LMS plugins for WordPress, let's first talk about the features you should look for in an LMS plugin.
An LMS (Learning Management System) plugin should have the following features:
Course Management
The LMS plugin should allow admins and instructors to create, edit, and manage courses, including the ability to add and remove content, track progress, and issue certificates.
User Management
The LMS plugin should allow admins to manage users, including the ability to add and remove users, create user profiles, and assign courses to users.
Assessment and Evaluation
The LMS plugin should provide tools for creating and delivering assessments, such as quizzes and tests, and evaluating user performance.
Communication
The plugin LMS should have communication features, such as discussion forums, messaging, and email notifications, to allow learners to interact with instructors and each other.
Analytics and Reporting
The plugin LMS should provide analytics and reporting tools, such as progress reports, course completion rates, and user engagement metrics, to help instructors track user progress and make data-driven decisions.
Integrations
To give learners a seamless and comprehensive learning experience, the LMS plugin should interface with additional tools and services like payment gateways, social media platforms, and third-party apps.
The Capability of Uploading Course Materials
With your LMS plugin, you ought to be able to upload course materials. This category includes text, PDFs for worksheets or course workbooks, and video/audio content for course lessons.
Now we are going to witness the best 5 LMS plugins for WordPress.
Best 5 LMS Plugins for WordPress Compared in 2023:
Academy LMS
LearnDash
Learnpress
Tutor LMS
Sensei
Let's now overview these five best LMS plugins for WordPress.
Academy LMS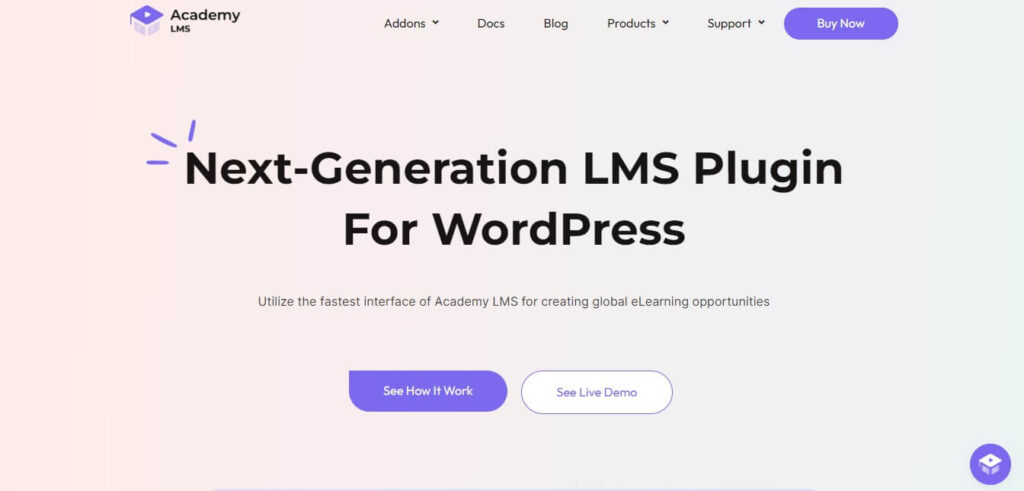 Academy LMS is ranked number one in our list of the best five LMS plugins for WordPress. The best next-generation, lightest, most effective, and fastest WordPress LMS plugin should be sought. The Academy LMS may be your first choice for developing your worldwide eLearning platform solution.
WordPress's Academy LMS plugin, which is built on React JS, is used to create reliable websites for online learning management systems. The Academy LMS plugin allows you to create courses, manage students, and sell courses online.
The Academy LMS offers both a straightforward drag-and-drop course builder and the option to create multi-tier courses. It has seamless integration with popular plugins like WooCommerce.
An all-inclusive tool for developing and overseeing online courses is Academy LMS. It is a well-liked option for individuals wishing to sell courses online due to its course builder, subscription possibilities, and integration with other programs. It is an effective tool for developing interesting and successful e-learning experiences thanks to its reporting and analytics tools and customization choices.
Academy LMS Key Features:
SPA (Single Page application) – Super Fast Admin
Robust Course Builder
Questions And Answer section
Several pricing options for your courses, such as one-time fees, ongoing subscriptions, and memberships.
Advanced Quiz Builder
Multi Instructor Revenue Sharing
Content Drip
Email Notification
Manual Enrolment
Advanced Analytics
Certificate
And Multiple Video Source Options
Simple and easy-to-use interface
For eLearning platforms, individual course makers, WordPress developers, and anybody else who wants to create and market robust online courses quickly, Academy LMS is the best option.
Pricing: Pricing is the game-changing factor here. There are many WordPress LMS plugins on the market available, but their pricing is very high compared to their features. The Academy LMS PRO starts at $119/year and has a lifetime free plan available in the WordPress repository. 
LearnDash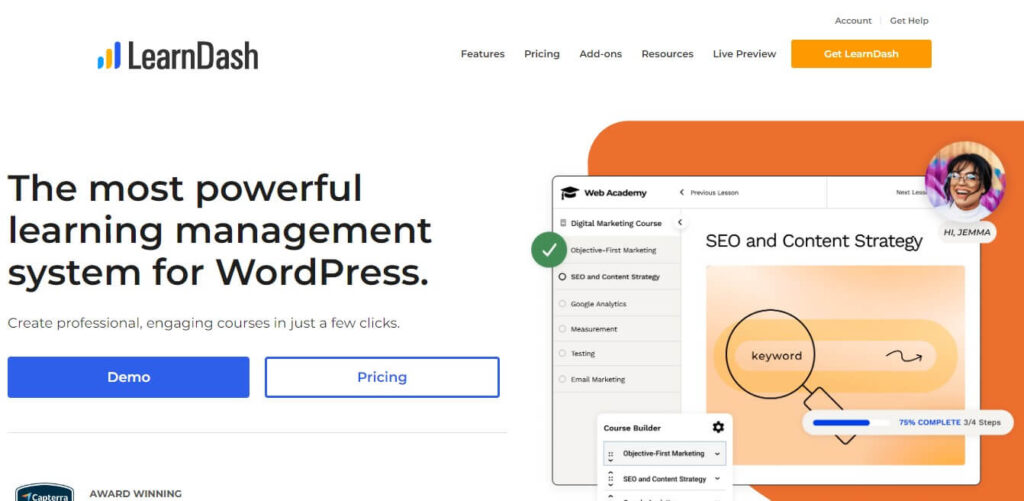 One of the most widely used LMS plugins for WordPress is LearnDash. You may easily design and sell courses online thanks to this plugin. You may design many course formats using LearnDash, including those with exams, tasks, and discussion boards.
Additionally, LearnDash provides gamification tools like points and badges to enthuse and engage your pupils. Even after they finish a course, you can give your pupils certificates.
With LearnDash's integration with other programs like WooCommerce, you can effortlessly sell your courses and take care of payments. To further aid in your analysis of how well your courses are functioning, you can also monitor student progress and receive thorough reports.
LearnDash Key Features:
You can choose from a variety of price structures for your courses, including one-time fees, monthly subscriptions, packages, memberships, and more.
Automatic reminders of renewal
Certificates, tests, homework tasks, and engagement-boosting factors
Refund security
The capability of content drip-feeding
Dependable user management
Businesses, educational organizations, and anybody else who wants to easily create and offer robust online courses should use LearnDash.
Pricing: Only paid plans are available and the paid plan starts at $199/per year
LearnPress LMS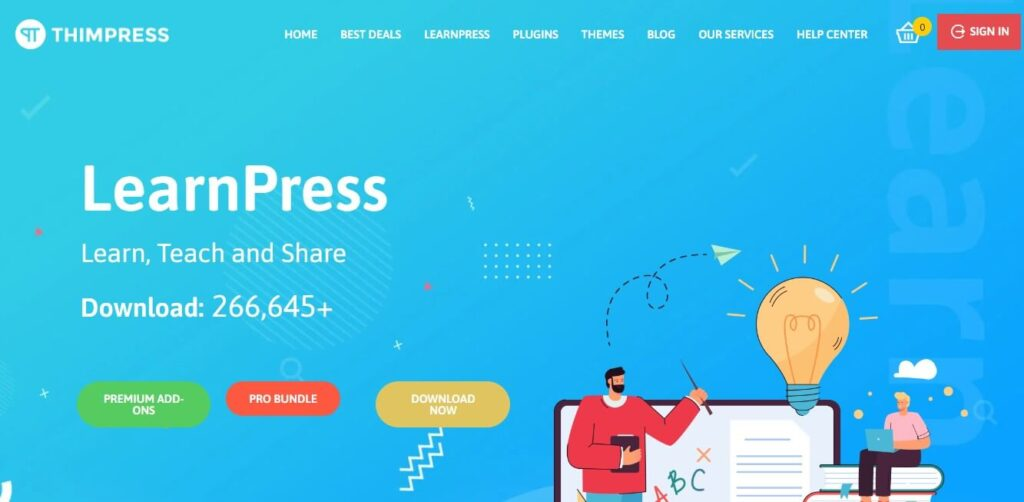 LearnPress is a powerful LMS plugin for WordPress websites that was designed by Thimpress. Using its drag-and-drop course builder, you can create an endless number of courses.
With LearnPress, creating a website that resembles Udemy is easy. To put it another way, you can develop an online learning platform and allow others to post and sell their courses on your course marketplace.
This plugin also makes WordPress multisite configurations possible. A single course may also be overseen by multiple instructors.
LearnPress Key Features:
The various course and lesson settings are used to set up courses with one-time payments or subscriptions.
includes a course preview module so users may get a feel for the course before purchasing
Adaptation to various payment gateways
Student forums, thanks to BuddyPress integration
Free add-ons include course wishlists, reviews, course import and export, and support for offline payments.
integration with the plugin Paid Memberships Pro to build membership websites
Content drip-feeding, irregular quizzes, and a badge and point system are all examples of gamification approaches.
For business owners and entrepreneurs wishing to create an Udemy clone or who are just starting out offering online courses, LearnPress is the finest option.
Pricing: Free with paid plans available ‍and the paid plan starts at $299/per year
Tutor LMS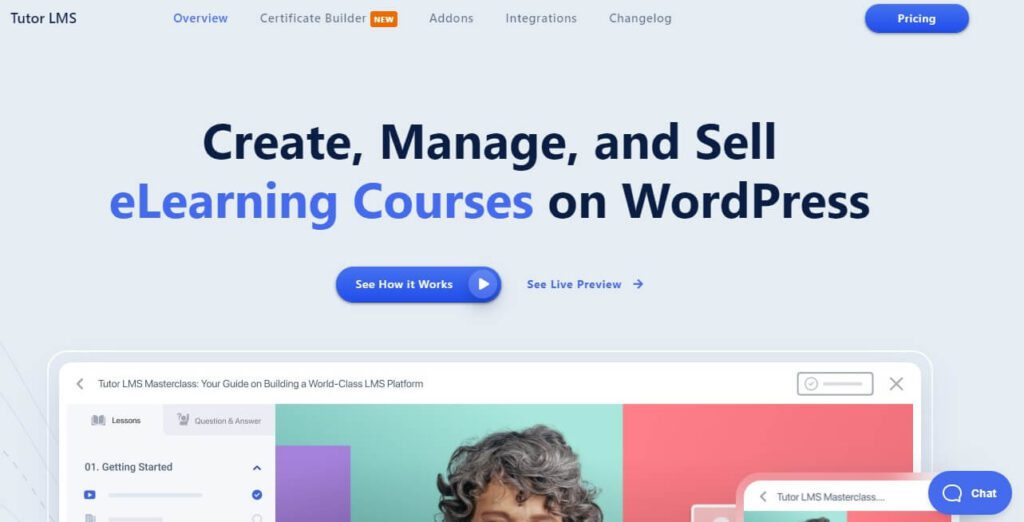 With the help of the potent plugin Tutor LMS, you can design, market, and oversee online courses. Because to the variety of capabilities it provides, it serves as an all-in-one tool for developing and delivering interesting e-learning experiences.
The integration of Tutor LMS with well-known third-party products and WordPress plugins is another noteworthy feature. You can manage your e-commerce transactions and sales data effortlessly by integrating Tutor LMS with WooCommerce. You may quickly send targeted email campaigns to your students by integrating with email marketing solutions like MailChimp.
You can also customize your courses with Tutor LMS in order to meet your unique requirements. A variety of themes and templates are available, or you can use custom CSS to make your own. To give your classes a polished appearance, you may also include branding components like your logo and color palette.
Tutor LMS Key features:
intuitive drag-and-drop course builder;
the ability to create lessons, quizzes, assignments, and set up content dripping;
Working with Zoom, Google Classroom, and YouTube is available during live classes. ;
customization-ready design layouts;
multiple style settings;
convenient dashboards for teachers and students;
the ability to create e-learning portals for a mobile audience;
inbuilt event calendar;
analytics and reporting will show the course performance and profitability;
the ability to create custom grading scales;
multiple video sources (self-hosted, YouTube, Vimeo, etc.);
it is possible to engage multiple instructors at the same time;
various payment gateways supported.
Pricing: Tutor LMS is a free plugin, though a premium version is available, too priced at $199 per year.
Sensei LMS
A strong WordPress plugin called Sensei LMS enables you to design, administer, and market online courses. WordPress.com, Jetpack, and WooCommerce are all owned by the same firm, Automattic, which also created and maintains the plugin. It is meant to be a versatile and easy-to-use platform for developing and delivering e-learning experiences.
The integration of Sensei LMS with WordPress is one of its primary advantages. Since it was created by the same business that owns WordPress, it works in unison with the platform and is simple to use and modify. You may create and manage courses, lessons, quizzes, and assignments using the plugin's simple interface.
A robust and adaptable e-learning solution that is simple to use and configure is called Sensei LMS. It is a well-liked solution for those wishing to develop and market online courses because of its interaction with WordPress, monetization opportunities, reporting and analytics tools, and customization options. A comprehensive and user-friendly e-learning platform is what you should be looking for, and Sensei LMS is unquestionably worth looking into.
Sensei LMS Key Features:
student progress tracking and performance management;
detailed reporting by groups;
the ability to embed video content from Vimeo, YouTube, and VideoPress;
multiple style settings;
a special Learning Mode to eliminate distractions while teaching;
access to interactive elements such as task lists, questions, picture hotspots, and flashcards;
WooCommerce integration gives access to the one-time payment, membership, and subscription-based monetization models;
the capacity to distribute course material in drips;
advanced quiz features;
the ability to create student groups and course schedules;
conditional visibility for the lesson content;
Pricing: The cost of the premium package is $149 a year, and the basic features are free.
Decision Making for Choosing LMS Plugins for WordPress in 2023
Choosing the right LMS plugin for your WordPress website is crucial for delivering a successful online learning experience. The five LMS plugins for WordPress we have discussed in this article—LearnDash, Academy LMS, LearnPress LMS, Tutor LMS, and Sensei LMS—are all great options to consider. Each of them has its own unique features, advantages, and limitations.
If you're just beginning started and looking for a free plugin, Tutor LMS or LearnPress are both good choices. LearnDash or Academy LMS will be ideal if you want a more complete solution with integrated Zoom, email notifications, and integration with other plugins.
Ultimately, the choice of an LMS plugin depends on your specific needs, budget, and level of expertise. Before making a decision, it's important to evaluate each plugin's features, performance, and compatibility with your website. We hope that this comparison of the best 5 LMS plugins for WordPress in 2023 has helped you narrow down your options and find the one that works best for you.
We hope you enjoyed the article about the best 5 LMS plugins for WordPress in 2023. If you have any concerns about this, you can ask questions about it by joining our Academy LMS Facebook community, and you can also follow us on Twitter for our latest updates.
FAQs: Frequently Asked Questions
What is an LMS plugin?
An LMS plugin is a tool that allows you to create, manage, and sell courses online.
Can I use these LMS plugins to create and sell courses?
Yes, all the LMS plugins listed in this article allow you to create and sell courses online.
Do I need to have technical skills to use these LMS plugins?
No, most LMS plugins are designed to be user-friendly and easy to use. You don't need to have any advanced technical skills to create and manage courses, quizzes, and other content using these plugins. However, if you want to customize the appearance or functionality of your LMS, you may need some basic technical skills or you may hire us to assist you. Please feel free to
visit our LMS services
for more details.