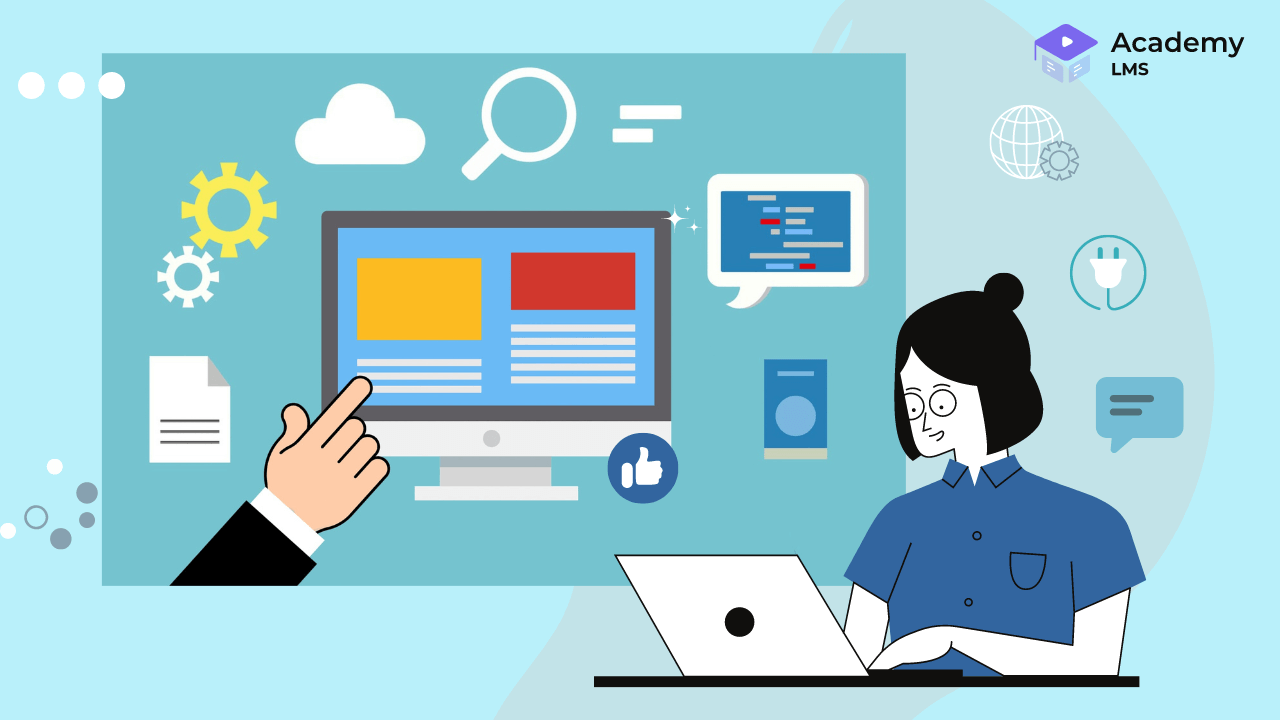 Fastest Best Free LMS plugin for WordPress in 2023
More and more people are using e-learning to advance their knowledge and abilities as the world becomes more digital. A Learning Management System (LMS) plugin is one of the greatest ways to provide e-learning to your audience if you run a WordPress website. Although there are several LMS plugins available, Academy LMS stands out as the quickest and most dependable choice.
In this article, we'll take a closer look at Academy LMS and what makes it the best choice for anyone looking for a best free LMS plugin for WordPress in 2023.
What is Academy LMS?
Academy Users can develop and manage online courses using the WordPress plugin LMS, which is a learning management system (LMS). It offers tools for course development, student management, and progress monitoring, making it simple for teachers to disseminate their content to a large audience.
Users may develop and manage their online courses inside of their existing WordPress website thanks to the Academy LMS plugin, which is made to integrate easily with WordPress. A variety of customization options are available with the plugin, including the ability to modify the course's appearance and feel, add unique branding, and include third-party resources.
There are many advantages of using a WordPress LMS plugin like Academy LMS. First, it enables teachers to reach a larger audience and teach their courses to students all over the world. Also, it gives students an easy way to have access to the course materials, enabling them to learn at their own pace and on their own timetable. Finally, by automating processes like course registration, grading, and progress monitoring, adopting a WordPress LMS plugin can save time and money.
Overall, Academy LMS is a strong and adaptable WordPress LMS plugin that gives teachers the resources they need to design and oversee online courses. Academy LMS is a fantastic choice to take into account whether you're a teacher, trainer, or business owner trying to develop and sell online courses.
Features of Academy LMS
Academy LMS is a robust Learning Management System plugin that offers a wide range of features for creating and managing online courses. Some of the key features of Academy LMS include:
Course Creation Tools
With Academy LMS, educators can easily create and publish online courses, including adding text, images, video, and audio content. The plugin also includes tools for creating course outlines, lesson plans, and assessments.
Student Management
Academy LMS makes it easy to manage students, including registration, course enrollment, and progress tracking. The plugin allows educators to view student progress and grades, communicate with students, and manage course materials.
Course Progress Tracking
Academy LMS provides detailed progress tracking for students, including completion rates, quiz and assessment scores, and other key metrics. This helps educators understand how students are progressing through the course and identify areas where additional support may be needed.
Quizzes and Assessments
The plugin includes tools for creating quizzes and assessments, allowing educators to test student knowledge and track progress. The plugin also provides options for setting grading criteria and providing feedback to students.
Drip Content
Academy LMS allows educators to release course content gradually, using a drip content feature. This can be useful for courses that have a lot of material, allowing students to absorb the content at their own pace.
Multiple Payment Gateways
Academy LMS integrates with multiple payment gateways, making it easy for educators to sell their courses and accept payments from students.
Custom Branding Options
Academy LMS includes a range of customization options, including the ability to add custom branding, change the course layout, and adjust the look and feel of the course materials.
Overall, Academy LMS is a powerful and flexible LMS plugin for WordPress that provides educators with the tools they need to create and manage online courses. With its wide range of features, the plugin is suitable for a variety of course types and can be customized to meet the needs of individual educators and students.
Benefits of using Academy LMS
Academy LMS is a powerful Learning Management System (LMS) plugin for WordPress that offers a range of benefits for educators and students alike. Some of the key benefits of using Academy LMS include the following:
Fast and Efficient Performance
Academy LMS was created with speed and efficiency in mind, making it simple and quick for teachers to construct and deliver online courses. The performance of the plugin has been enhanced to guarantee that students may access the course materials without delay and that they load swiftly.
Easy-to-Use Interface
Teachers may easily develop and manage online courses with Academy LMS's intuitive and user-friendly interface. Anyone may create and deliver online courses thanks to the plugin's user-friendly interface, which is made accessible to users with little to no technical knowledge.
Customizable to Fit Your Brand:
Because to Academy LMS's extensive customization capabilities, educators can alter the appearance and feel of their online courses to better represent their business. A variety of customization options are available with the plugin, including the opportunity to add unique branding, change how course content are laid out, and more.
High-Quality Support and Documentation
Academy LMS is supported by a group of dedicated support staff members who are available to assist educators with any problems or concerns they may have. High-quality documentation is also included with the plugin, making it simple for users to get started and find solutions to common problems.
No Coding Required
No coding or technical knowledge is needed to use Academy LMS because of how simple it is to use. All skill levels of consumers can use online courses since educators can manage them without writing a single line of code.
Compatible with Popular WordPress Themes and Plugins
Because Academy LMS is completely compatible with well-known WordPress themes and plugins, integrating it with already-existing websites and workflows is simple. Users can further expand the functionality of the plugin by integrating a variety of third-party components.
Overall, Academy LMS is a strong and adaptable LMS plugin for WordPress that provides both teachers and students with a number of advantages. Academy LMS is a fantastic choice to take into consideration whether you're looking to construct and deliver online courses for personal enrichment, academic learning, or professional growth.
How Does Academy LMS Compare to Other LMS Plugins?
There are a number of things to take into account when contrasting Academy LMS with other learning management system (LMS) plugins, including speed and performance, features and functionality, cost and value, and actual examples of the plugin in use.
Speed and Performance: Academy LMS uses server resources effectively and has quick loading times because of its performance optimization. This makes it a fantastic choice for teachers who must efficiently and dependably deliver a lot of course material.
Features and Functionality: The features and functionality offered by Academy LMS are extensive and include tools for creating courses, student management, tracking course progress, quizzes and evaluations, drip content, numerous payment channels, and possibilities for personalized branding. Additionally, the plugin supports third-party integrations, enabling users to increase its capabilities.
Pricing and Value: Academy LMS is priced competitively compared to other LMS plugins, with a range of pricing plans to suit different needs and budgets. The plugin offers good value for money, with a wide range of features and a high level of support and documentation.
Real-World Examples: Academy LMS has been used by a wide range of organizations and individuals to deliver online courses and training. For example, the plugin has been used by universities and colleges to deliver academic courses, by businesses to provide employee training and development, and by individuals to create and sell their own online courses.
It's crucial to take your organization's or unique use case's particular needs and requirements into account when comparing Academy LMS to other LMS plugins. In contrast, Academy LMS stands out as a strong and adaptable LMS plugin that provides a variety of features and capabilities, quick and effective performance, and good value for the money based on the aspects mentioned above.
Getting Started with Academy LMS
Starting up Academy LMS is a quick and easy procedure that only requires a few simple steps. Here are some documentation and blog posts that will help with getting started with Academy LMS:
Academy LMS is the fastest and best free LMS plugin for WordPress in 2023. Its extensive features and easy-to-use interface make it a top choice for anyone looking to create an online course or training program. With no coding required and excellent support and documentation, Academy LMS is the ideal solution for beginners and experts alike. So why wait? Give Academy LMS a try today and see for yourself why it's the best LMS plugin for WordPress in 2023!
Overall, if you're looking for a fast and powerful learning management system plugin for WordPress, Academy LMS is definitely worth considering. Its ease of use, robust feature set and high performance make it a top choice for online course creators in 2023.
We hope you have enjoyed this blog post about the fastest and best free LMS plugin for WordPress in 2023. If you liked this or have any questions, please join our Facebook community to ask questions and follow our Twitter for the latest updates.
FAQs Frequently Asked Questions
How much does Academy LMS cost?
Please visit our
pricing page
, we have multiple price options.
Is Academy LMS easy to use for beginners?
Certainly, beginners can easily utilize the Academy LMS. The plugin has been created to be user-friendly and intuitive, with a straightforward interface that makes it simple to use. There is no coding needed to get started, and the course-building tools are simple and easy to use.
Can I integrate Academy LMS with my existing website?
Yes, you can integrate the Academy LMS with your existing website.