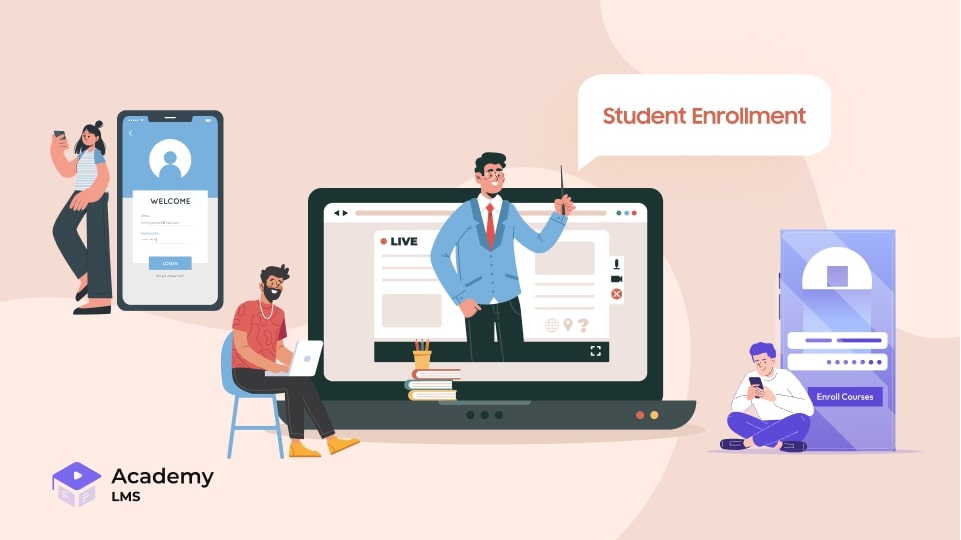 Best 13 Ways to Increase Student Enrollment for eLearning Courses
As the eLearning sector experiences rapid growth, the competition is also increasing drastically. Multiple online course providers are selling courses, and the overall activity of the market increased dramatically. But don't worry because you can still thrive in this challenging marketplace by applying effective tactics.
One of the most concerning factors of online learning is student enrollment for eLearning courses. Place the right strategy in the right place; your eLearning site will be packed with students. This is because marketing strategy is necessary for both online and traditional education systems.
The educational system and its marketing techniques have shifted online. Academy LMS has gathered some excellent ways to increase student enrollment by applying proper strategies. So, consider these 14 suggestions to boost your online learner's engagement and enhance eLearning.
1. Learn About Your Students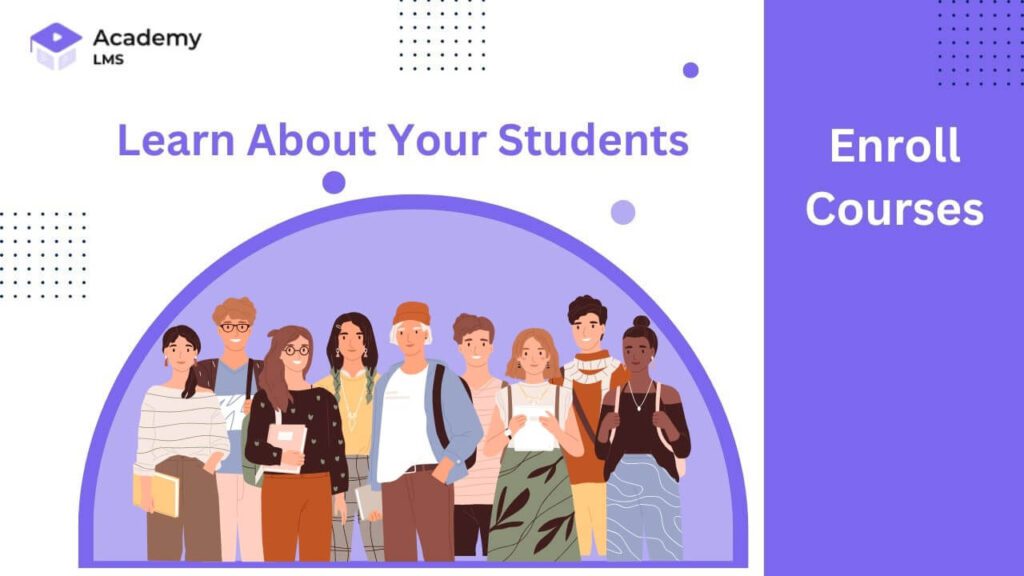 How well the target audience receives your message will determine how effective your marketing plan is. Your marketing efforts will be more successful the more you comprehend your audience. Therefore, one of the best ways to increase student enrolment is to understand more about your students.
You can learn your audience through surveys, running polls, inquiries, etc. Then create a student persona depending on the survey findings or polls.
A student persona is a fictitious portrayal of the ideal learners likely to enroll and do well. It is the online behavior of the kind of student you want to have.
A proper student's persona can assist you in the following ways:
You will be fully aware of where to locate your target market audience and where they are spending time.
You can run a digital campaign focusing on customers' demographics and geographic locations.
By utilizing the keywords and exploring the interest, you can specifically target those students who are looking for the courses you are promoting.
Knowing your students well will help you better grasp their problems, skills, career aspirations, and personal objectives.
You can develop persuasive marketing messages that connect with your target market with all this information.
2. Evaluate Local and Global Market Trends 
Do you get concerned when a market sees an increase in contenders? After all, anybody can use their favorite online course platform to build their unique course website for less than $100 per month.
The excitement is usual, but it's a positive thing. The development of rivals simply indicates that there is a strong demand in the market. You just need to keep your marketing strategy in sync with the current trends and stay ahead.
But how can you beat the opposition?
You must, then, comprehend how your rivals do business. What kind of sales organization do they have, and how are they producing leads? You may adjust and enhance your methods by comprehending your rivals' marketing and sales procedures.
You can develop effective marketing strategies that differentiate you from competitors by blending the right audience and competitive research. One more thing, think about both the local and global market whenever you are doing the research.
3. Present Testimonials and Success of Your Students 
Highlighting your students' testimonials and success stories is one of the ways to increase student enrollment. Student case studies, honors, and recognitions aid in establishing your brand's credibility with your audience.
It helps others understand your course's effectiveness when you publicize what a current student has accomplished after completing it. Student case studies can increase prospects' interest in and confidence in your institution or course.
Keep in mind that trust is the finest asset you can create!
One of the most delicate types of content marketing is client testimonials. You might request video evaluations of the courses from your learners and post them on various websites your target demographic frequents.
4. Utilize More Video Contents 
You'll lose a lot if you aren't using videos in your course marketing plans. People react to videos more; generally, they watch more visual content than text-based information. So, utilizing videos could be one of the ways to Increase student enrollment in eLearning courses.
You should establish a YouTube channel of your own where you highlight the qualities and advantages of your organization. Provide some free educational videos to your students that they may watch. These video contents will support the decision-making process and maintain your leads.
The ability to transform video content into various formats is yet another ways to increase student enrollment. Videos could be embedded into blogs, made into audiobooks on related topics, or even used as the basis for insightful articles and newsletters.
5. Showcase Portfolio & Expertise of Instructors
You may make the teacher the hero of your marketing campaign since they play a significant part in eLearning websites.
Usually, students join a class to receive lectures from a particular instructor because of the teacher's reputation. So instructors will make it simple for your prospects to join your eLearning site.
When parents make the decisions, this approach is quite successful. Anyone learning online would be more engaged with a superb instructor, and parents would prefer to have one for their kids.
6. Improve Website to Boost Leads 
More leads and sales are necessary for any firm. In addition to exhibiting your facilities online, your website may be a potent tool for generating quality leads.
A WordPress education theme that has been tweaked carefully will help you with effective website design. The Hello Academy is indeed a great start for it.
Include popups on various pages that invites site visitors to enroll for courses, get notification on your products, and subscribe to your blog. To boost social sharing and exposure, include social sharing buttons on your website where appropriate.
Don't forget to make your course page look engaging and full of necessary details. Our Academy Elementor Addon will provide you with all the essential features to create an ideal eLearning website. You can also create lucrative landing pages with compelling content for various courses. Next, you can divert traffic to selected pages to boost conversion.
7. Promote Via Social Media 
It comes as no surprise that social media has significantly changed the game. Facebook has more than a billion active monthly users, making it a huge industry. Others include Instagram, YouTube, Google+, LinkedIn, TikTok, and many more.
So who do you think invests most of their time in social media? The young users are probably among your target market.
Social media is currently one of the best ways to increase student enrollment for eLearning sites. Social media presents an opportunity to support inbound marketing, implying that you don't always need to run advertisements to attract clients.
Construct helpful content instead, then share it on social media. This draws in and cultivates more students willing to get into your channel. Here are some suggestions for expanding your social media audience and increasing enrollments:
Explore Social Media: Each social network is unique. Analyze the ones where the majority of your audience frequents first. Begin with two or three social media sites.
Produce Relevant Content: What works on Facebook will not work on Snapchat or Twitter. Although the information may be repurposed, it must be presented in the manner that the consumers of that medium usually consume.
Use Social Proofs:
Showcase social proofs on social media as much as you can. To expand the audience of your channels, you may even place social media advertisements on these testimonies.
Use Video Content: You can post short lectures instead of long lectures on social media. People usually like short content. Short video contents are more intriguing and attract students to learn more.
Launch Ads: Create attractive social media ads and direct interested users to your website's landing page. Conveying correct messages through your ads is another convenient way to increase student enrollment.
8. Increase Exposure Using SEO 
The highly qualified audience will seek out the program or course. By Qualified, we mean that these folks are in desperate demand of your training and are actively looking for it. They actively search on Google and watch videos on YouTube to get a course. So, SEO optimization could be one of the great ways to increase student enrollment.
Imagine having the opportunity to appear at the top position on the search engine result pages. Putting relevant keywords in the right places will optimize the search results.
The search results will depend on the terms your audience will put into a search engine. SEO success depends on using the appropriate keywords at the right moment.
A willing prospect for your Javascript course maybe someone looking for the "best Javascript course in California." The seeker may be already thinking about a particular institution if they use the search phrase "X institution Javascript Course Reviews."
To see what terms potential students are looking up relevant to your program, you may utilize a variety of search engine optimization tools.
9. Apply Email Marketing 
The world may be online, but that doesn't imply traditional marketing strategies have lost their effectiveness. Email marketing is currently one of the most engaging ways to increase student enrollment.
Email marketing lets you communicate with your students effectively and without even bothering them. You can send attractive emails with all the information about your courses, the latest releases, and updates. ]
So your students are always being notified about everything that is going on on your eLearning site. So, emailing is an excellent approach to inform your prospect about your programs, despite its character constraint. It assists in growing your audience.
Your prospects may well be inspired to act or take the next step with a customized, timed email.
10. Speed Up Your Response 
People desire prompt responses to their concerns and inquiries as technology gets more rapid. You win the game when you respond to them quickly. Since the most amazing effects come from these tiny things. Thus, speeding up your response time can be one of the ways to increase student enrollment.
Pretty nearly every reaction can be automated. Use a chatbot to handle things for you. Alternatively, you might include live chat services on your website so that your support staff can immediately address any inquiries from students.
Additionally, live chat speeds up the process of connecting with your audience and generating leads. To maintain interest in and further develop your audience, deploy scheduled email and SMS campaigns.
11. Get Reviews from The Learners 
Did you make your last online purchase without looking at the reviews and ratings?
Ratings and reviews build trust significantly, which is equivalent to testimonies. Reviews are shown in Google, Trust pilot, and institution-based websites such as Niche.com, collegefactual.com, etc. Also, your Facebook page and YouTube channel is an ideal place to showcase reviews.
These evaluations also help with SEO. Search engines will rank you higher the more favorable feedback you have. Reviews that are positive provide lasting effects. This turns into a kind of electronic word of mouth. Each positive evaluation you get helps to increase the number of enrollments.
12. Implement Student Survey  
Getting reviews from your students and net promoter scores are great ways to receive honest feedback about your eLearning platform. The NPS score measures a prospective learner's chance to suggest the course to a colleague or friend.
These polls let you determine where your curriculum and learning platform may be improved. Consider any constructive comments. This will assist you in constructing your marketing messages more effectively, resulting in greater enrolment.
13. Establish an Effective Sales Team
Every eLearning platform requires qualified leads and, eventually, handsome sales. The instruction and training provided by your eLearning site are also the same. But it's not as if you can create a product and aggressively advertise it, and students will purchase it right away.
There are many eLearning platforms nowadays, and your students and their guardians need persuasion before investing in your eLearning platform's courses. This is the role of an experienced sales team. Sales are the heart of every enterprise, and an effective sales force can make or ruin a corporation.
With the proper messaging, your sales staff can enroll students in webinars or, in the case of a costly course, in one-on-one conversations. With the proper training, your sales crew represents your company's greatest revenue-generating resource
Wrapping Up
Digitalization affords you exceptional ways to increase student enrollment through proper marketing. The majority of students are online, thus, it is time for your university to follow suit.
Regardless of the media, the number of enrollments you get will rely on how well your message is connected with potential students. You may utilize your social profile and website to create audience-relevant material and establish credibility.
Utilize organic outreach, SEO, and sponsored advertisements to enhance your message and display student endorsements and research reports. With sufficient trust and a well-organized upgrading process, you will quickly see a rise in student enrolment.
To get more students at your website, read our tips on Best Ways to Increase Student Enrollment for eLearning Courses. We can happily help you with applying great strategies on your eLearning site and online education. Feel free to share your strategies in our comment section below. Feel free to join our Facebook community and you may follow us on Twitter.
FAQ: Frequently Asked Questions
Is there one best ways to increase student enrollment for eLearning courses?
Well, there is no shortcut to increasing student enrollment, but you always research the eLearning market and industry. Always keep up to date with the industry and add more strategies to increase student enrollment. And yes, you can follow our guidelines. 
How can I enroll more students in my eLearning courses? 
Learn about your students 
Evaluate Market Trends 
Present Testimonials
Post More Video Contents
Showcase Portfolios
Improve Website 
Promote on Social Media
Improve SEO
Email Marketing
Response Faster 
Get Reviews
Implement Survey 
Grow your Sales Team 
Is there any LMS plugin in WordPress that is great for increasing Student enrollment?
Of course, Try
Academy LMS
is one of the latest WordPress LMS plugins that will provide course creation, customization, and selling. And yes, ways to increase student enrollment become much easier because of its user-friendly UI.