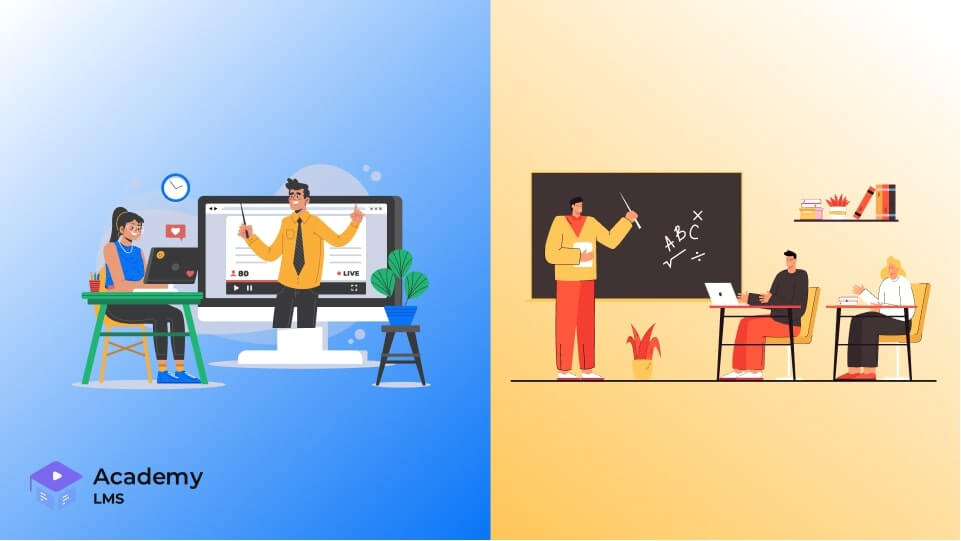 Top New Future eLearning Trends to Focus on 2023
The eLearning industry is massively expanding, with huge opportunities for money generation. Currently, eLearning has a great influence on both the education and corporate sectors. Especially after COVID, the socioeconomic changes convinced the system to emphasize an online learning environment more than ever.
However, proper implementation of technology, innovation, and research can outpace expectations for expansion. Therefore, you must keep up with the eLearning trends in 2023 to get the most out of it.
In this article, we will present some of the brand-new eLearning trends to focus on in 2023. If you are an eLearning enthusiast, entrepreneur, or willing to start your own eLearning business, pay close attention to the rest of this article.
eLearning Trends for 2023
Emerging technologies such as artificial intelligence (AI), virtual reality (VR), and augmented reality (AR) are expected to shape the eLearning landscape. AI can be used to provide personalized learning experiences to students, while VR and AR can be used to create engaging and interactive learning environments.
The use of mobile devices for educational purposes is also expected to increase. Mobile learning can provide more flexibility and convenience than traditional methods and can be used to deliver educational content anytime, anywhere.
Gamification and social learning are also expected to become more popular. Gamification integrates game elements into learning, while social learning allows students to collaborate and learn from each other.
These trends will continue to shape the eLearning industry in the next few years, helping to make learning more accessible, engaging, and effective.
Artificial Intelligence For eLearning
AI for eLearning in 2023 is expected to be significantly more advanced than today's implementations. By 2023, AI-enabled learning platforms will be able to identify student strengths and weaknesses more accurately, suggest personalized learning paths and learning resources, and provide more personalized feedback and instruction.
AI-driven analytics will be able to provide insights into student behavior, engagement, and performance. AI-powered virtual tutors can provide real-time guidance and feedback to students. AI-driven bots can automate mundane tasks, freeing teachers to focus on more creative tasks.
AI-assisted data analytics will empower educators to make more informed decisions about course design and student progress tracking. AI-powered tools can analyze large datasets quickly and accurately, providing educators with valuable insights and recommendations.
AI-assisted adaptive learning systems will be able to provide personalized learning experiences, adjusting the difficulty and pace of learning based on the student's performance. AI-enabled tools will be able to detect and handle errors in real-time, increasing the efficiency and accuracy of the learning process.
AI-powered intelligent agents will be able to provide automated support, such as answering student queries, providing resources, and helping to guide students through
Virtual Reality for eLearning
Virtual reality (VR) could be one of the eLearning trends in 2023, which is expected to be in the limelight. It is a more advanced approach than today's perspective.
By 2023, VR-enabled learning platforms will be able to create immersive learning experiences. It will be useful to satisfy each student's learning preferences.
Students will get a more realistic and engaging learning experience through VR-enabled eLearning platforms. The training scenarios will be able to provide a safe and engaging environment as well. So students will be able to practice and improve their skills more flexibly. VR-enabled simulations will provide more realistic and practical experiences that are impossible to get in a traditional learning environment. Moreover, VR-based assessments can provide more accurate and reliable data on student performance.
Students can learn at their own pace in a VR-enabled eLearning platform. Therefore, the learning path will be more flexible and reliable. Additionally, student progress and performance will be revealed in real-time, allowing for a more effective and efficient learning environment.
Sharing eLearning Experience for Growth
Workers can now share their working experience more flexibly due to hybrid workplaces. Businesses are increasingly starting to encourage the sharing of eLearning experiences via videos, simulations, and narratives to understand the typical issues experienced by workers.
Employers expect that these problems will be discussed and that individuals who are having trouble will be able to apply what they learn to make other people's experiences better.
Furthermore, despite the absence of face-to-face connection that comes with working remotely the most, if not the whole of the time, hybrid workplaces provide workers the chance to develop ties with one another.
Mobile Devices for Increased Learning Flexibility
When it comes to future eLearning trends, mobile plays a huge role in them. Mobile learning in 20203 will be a mainstream learning platform for learners worldwide. Because mobile devices can access responsive websites, learners will feel more at ease studying on them.
While learning via mobile devices, users will get a more personalized learning experience. They can access the course content, quizzes, and other learning materials from any location and at any time. Moreover, students can connect and interact with their peers anytime and anywhere they want.
In 2023, mobile eLearning platforms will be more user-friendly and feature-rich than ever before. With the increased use of AI, learning from mobile devices will be more interactive.
Not only will the content be engaging, but it will also be tailored to the individual learner's needs. Furthermore, it will be easier to track the student's performance via mobile eLearning platforms due to AI. As a result, making recommendations will be easier than before.
In 2023, mobile eLearning will be an important part of the education landscape. It will be used by educators, students, and professionals alike to learn new skills and stay up-to-date with the latest developments in their fields. Ultimately, it will be an essential tool for those who want to stay competitive in an ever-changing world.
LMS Implementation To Enhance Career Development
With the help of the learning management system, eLearning was digitized, and we have seen the next generation of learning platforms. It serves as the foundation for all eLearning techniques because of its capacity for deployment, administration, data collection, and planning. However, the most recent upgrades have improved it much more.
Now that LMS has a training profile and skill evaluation, it may help with HRM. It may examine a worker's performance, previous and current learning accomplishments, and recommendations for more training.
A learning management system allows employers to deliver interactive learning opportunities that are tailored to the individual. It can also provide a way to track and monitor employee progress, ensuring employees receive the training and development they need.
These recommendations may help you identify which individuals are most suitable for leadership roles so you can appropriately plan those employees' career development.
Content Outsourcing for eLearning Success
Outsourcing eLearning content development is likely to become more popular in 2023. Because the demand for digital learning is expected to grow drastically.
The success of an eLearning platform depends on its content's weight and the effectiveness of the classes or learning sessions. Though the majority of businesses want to create their own modules, this is not always the best option. The utilization of the content and its organization using a range of content types are necessary for the eLearning content to be engaging.
In 2023, companies will increasingly look to specialized eLearning content developers. That is because they will be looking to provide quality, interactive, and engaging content that can be used on multiple platforms.
However, there are various benefits of outsourcing eLearning content production, such as cost savings, access to experienced professionals, and faster development times.
Additionally, outsourcing eLearning content development allows companies to focus on other areas, such as marketing and customer service.
With the latest eLearning trends, content developers will be able to create content that is more immersive and engaging. As a result, learners will easily absorb and retail course materials.
Data-Centric eLearning Approach
It is pointless to contest the reality that the market is shifting toward a data-centric approach. The 2023 eLearning trend strongly emphasizes gathering learning and performance data to evaluate how effectively your learners are learning.
Businesses across all industries are actively transitioning to a data-driven structure to supply goods and services more swiftly and individually for each consumer.
The L&D industry is analogous. In fact, data conversions usually begin in learning and development (L&D), especially when helping modern learners who want specialized and individualized learning methods.
Additionally, it will provide each profile with a critical evaluation so that trainers may discover the profiles' strengths and flaws. Using this information, they may create individualized classes that allow students to progress at their own speed and so improve information retention.
Blended Learning Approach
By 2023, the blended learning approach will be one of the popular eLearning trends to focus on. This learning approach blends the traditional classroom with the online learning approach. Thus, learners can customize their learning experience and engage with course materials differently.
AS technology advances, blended learning for eLearning will become popular for many reasons. Both students and educators will get a variety of benefits from this type of learning approach.
For students, blended learning allows them to learn at their own pace and access course material from anywhere. They can also customize their learning experiences based on their needs and interests.
For educators, this approach can help them track student progress accurately. Moreover, they can offer more personalized instruction to the students based on their performance.
The main components of blended learning include online activities, classroom instruction, virtual tools, and more.
By 2023, blended learning for eLearning is expected to incorporate more virtual tools and activities. As a result, games, simulations, digital assessments, and virtual field trips will be added. This will allow students to engage with course material in a more hands-on, interactive way. So, more educational institutions are expected to adopt the blended learning approach in 2023.
Gamification for More Immersive eLearning
Gamification for eLearning has come a long way since its inception in the early 2000s. By 2023, it will be used more widely to engage learners in the classroom and online.
Gamified eLearning will effectively motivate learners to go beyond the traditional learning process. Thus, they will engage more in further learning activities.
Gamification will allow educators to create immersive learning experiences. As a result, learning online will be both fun and educational. Learners will be given tasks to complete and rewards for achieving them. These rewards can be points, badges, or even virtual currency. This will motivate learners to become more involved and engaged with the content.
Additionally, gamified eLearning will include various levels of difficulty and challenges. That is because the challenges will ensure that learners are always pushed to their limits. It will help learners to stay engaged and motivated even after they have reached the end of the course.
Learners can also track their progress and get feedback on their performance. This will surely further their sense of accomplishment.
Social Learning Through Social Platforms
In 2023, social learning will remain an integral part of the eLearning trends. Social learning can help learners feel connected and motivated. Therefore, it can make learning more engaging and effective.
Social learning will be more sophisticated with technologies such as AI, VR, and augmented reality. Learners can collaborate and interact with one another in virtual learning environments. How? They can share ideas, ask questions, and work together on projects.
Through social media, learners and educators can maintain better communication. Social media will be used to post assignments, create discussion forums, and share resources.
Learners can interact with one another by commenting and sharing on social media. This way, learners and an eLearning group can foster engagement and collaboration.
Final Thoughts on Future eLearning Trends
So that's all on top of new future eLearning trends to Focus on in 2023. Academy LMS is constantly trying to adapt to the latest eLearning trends and provide you with all the latest eLearning information.
We recommend you focus on the eLearning trends mentioned above and customize your eLearning site so that you can implement all these methods. Ultimately, you will get more visitors and students and also be able to retain more students on your site.
If you have more updates on new eLearning trends that we can focus on. Feel free to let us know through the comment section. Don't forget to check out the latest on Academy LMS - the next-generation eLearning plugin for WordPress. This plugin will allow you to create your eLearning platform as well as keep up with the latest trends.
We hope you enjoyed the article about how to promote an online course. If you have any concerns about this, you can ask questions about it by joining our Facebook community, and also follow us on Twitter for our latest updates.