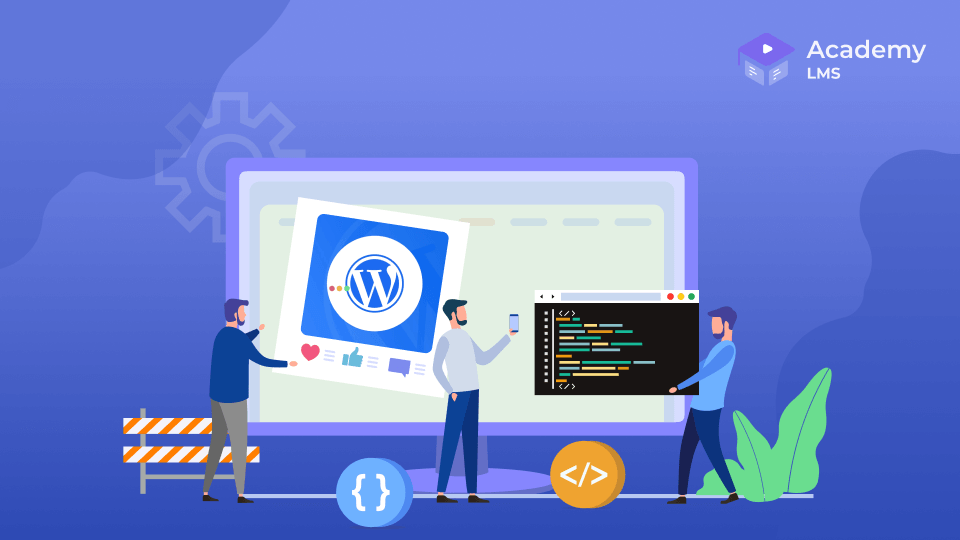 The Benefits of WordPress for LMS Platform
When it comes to creating an LMS website, then the benefits of WordPress for the LMS platform are endless.
WordPress is an excellent choice as it allows you to own your platform while offering great customization options. One of the best benefits of WordPress as an LMS platform is that it's easy to use. You can create and manage your courses without any technical expertise.
While WordPress has many benefits for LMS platforms, some of the most notable advantages include its ease of use, flexibility, and wide range of features. This article will explore the benefits of WordPress for LMS platforms.
Why WordPress for Your eLearning Website?
WordPress is used chiefly for building LMS websites. If you want to create a website for your eLearning company, it might be quite useful.
WordPress is cost-free, dependable, and simple to add plugins to. An online course may be offered for less money than on traditional platforms.
Let's get started. Now we'll look at the top of the benefits of WordPress for building an e-learning website using the WordPress framework.
Let's Explore the Benefits of WordPress for LMS Platform.
When building an eLearning website, a custom WordPress LMS connection offers a wide range of tools and features. Thanks to its various customization and integration possibilities, WordPress is a very extensive and stable open-source platform.
The benefits of WordPress for creating an eLearning website on the WordPress platform will be covered in the following few points. Let's look at them down below!
1. Ownership and Control: Plenty of Resources
The benefits of WordPress give you ownership of your website, allowing you to choose how you want your site to look and perform. Hosting on a SaaS platform is more like renting a home than owning one. Which gives you more flexibility and control to make it exactly how you want it?
Sure, maybe you can paint the walls in a rented property, but if you want to replace the flooring, or add an annex to accommodate growing needs, chances are you'll need to own the property. The same goes for websites.
Finding resources for everything you need is really simple with such a huge community. Everything you need, including developers, designs, content, plugins, and customization, is just a forum post away. Moreover, there's a good probability that someone else has encountered the same WordPress issue you have.
2. Admin Panel With a User-Friendly Interface
When compared to other systems, WordPress features a straightforward and user-friendly admin interface for managing the entire website. WordPress' learning management system is unique in that it doesn't include any bloatware of any kind.
Controlling the admin panel does not require any learning process. By reading the list of characteristics and traits, you will be able to obtain knowledge about them.
3. Search Engine Optimized
For your website to receive visitors, website optimization is crucial. Utilizing WordPress for your eLearning company website gives you the advantage of employing 3rd party plugins like Rankmath, which enables you to add meta titles, descriptions, and site names to your website. WordPress comes with pre-install SEO capabilities.
It has a straightforward URL structure that is simple to understand for visitors and search engines, making it obvious what sort of website it is about.
4. Enhance Functionality With Free Themes And Plugins.
WordPress offers a wide range of themes and plugins that will allow you to enhance the overall functionality of your eLearning website. Various LMS themes are available online to help you customize your online courses. Plugins help you sell your online courses easily by adding videos, audio, and quizzes to your online courses.
Many themes and plugins are used for scheduling your courses, setting course prerequisites, registering users, and setting payment alerts for users.
5. Customization and Flexibility
You won't need to bother about customization when using WordPress to build your eLearning website. It provides you with the simplicity of customization while creating your website. Based on your needs, you may quickly design your website and add elements like audio, video, and quizzes to your eLearning website.
One of WordPress' advantages is that there are many different ways to personalize a website because it is an open-source platform. With 10,023+ themes and an estimated 60,139+ plugins in the WordPress repository (and many more themes available for purchase outside of the repository), anybody can create a course website that is distinctive in both design and functionality.
6. Make Money
You may host webinars, sell courses online, and offer subscription-based access to digital content if you choose a WordPress LMS integration. By integrating an eCommerce plugin into your WordPress website, you may make money from your work.
We would like to remind you that WordPress is the only learning management system that makes it so simple to integrate plugins. An excellent way to make money for your website and company is to sell your content online.
Most widely used WordPress themes are compatible with eCommerce plugins. Of course, WooCommerce—the official eCommerce plugin for WordPress—has no rivals in our opinion when it comes to eCommerce, according to our WordPress agency for businesses.
7. Massive and Helpful Community
The assistance you receive from the WordPress community is a side benefit of utilizing it. My own experience has shown me that the WordPress community is incredibly welcoming, supportive, and resourceful. Whether it's in a WordPress forum, StackOverflow, Facebook group, or Reddit post, both professionals and amateurs will do their best to assist you. If you're having trouble, there's a good chance that someone in the neighborhood has dealt with a similar situation before and can guide you through it.
8. Marketing
Branding is essential for marketing expansion for any professional course designer. The majority of the globe feels that WordPress is the best website-building platform available for digital marketing reasons. WordPress is the most widely used content management system (CMS) that is open to everyone, powering more than 43% percent of websites.
9. Language Options
Offering courses in several languages is one of the finest methods to expand a student base internationally when teaching on an online platform, which has the ability to reach a worldwide audience. You should confirm that the languages of the localities where you intend to expand your base are supported by your platform.
10. Future Growth
As an open-source platform, WordPress gives an almost endless number of possibilities to design the site experience one wants and is simple to move to when and if necessary. It is also sturdy enough to expand with any organization.
SaaS learning systems bind you to a fairly limited set of features, templates, agreements, etc. In actuality, you are creating your asset on someone else's website, where you may only alter and develop to the extent that they permit.
The Best LMS Plugin for WordPress
One of the greatest all-around LMS plugins for WordPress, Academy LMS, is one of the things we can confidently declare with great pride. From individual instructors to course markets to large universities, Academy LMS was created to accommodate a variety of customers with radically varied use cases.
And the Academy starter templates are a one-click solution for creating a WordPress-based eLearning website.
You may benefit from all of WordPress' advantages as well as the whole feature set of Academy LMS when you utilize a learning management system that is compatible with WordPress, such as Academy LMS. Accordingly, if you currently have a WordPress website, this decision is essentially a no-brainer.
However, even if the company that will be associated with your course doesn't currently have a website, you should still read on to find out more about how WordPress and Academy LMS outperform other course management systems.
It's incredibly hard to discuss WordPress without mentioning WooCommerce. With WordPress accounting for the bulk of eCommerce websites, it's also a key tool for developing LMS websites that generate income. Therefore, it makes sense that Academy LMS offers solid integrations with WooCommerce. Using WooCommerce enables you to do a lot of things, like selling courses and monitoring student progress using Academy LMS Reports and Analytics.
Final Thoughts
Now you may know the benefits of WordPress for the LMS platform. And you also know that Academy LMS is the best solution for your LMS website.
We hope you liked this blog about the benefits of WordPress for the LMS platform. You can join our Facebook community and follow us on Twitter for more blog updates like this.
FAQ: Frequently Asked Questions
What is WordPress LMS?

Academy LMS is a WordPress LMS Plugin and a full-featured WordPress LMS Plugin. One of the best WordPress LMS plugins available, it makes it simple to build and sell courses online. You may design a course curriculum that includes lessons and quizzes and is controlled via a user-friendly interface.

How can I create a free LMS website?

One of the benefits of WordPress is that you can create a free LMS website with the free WordPress LMS plugin, Academy LMS. We have a complete guide on how to create an LMS website. 

What is the main purpose of the LMS?

An LMS's primary goal is to oversee the learning process (the name Learning Management System is pretty much self-explanatory). It functions automatically and according to certain rules, making it a system.