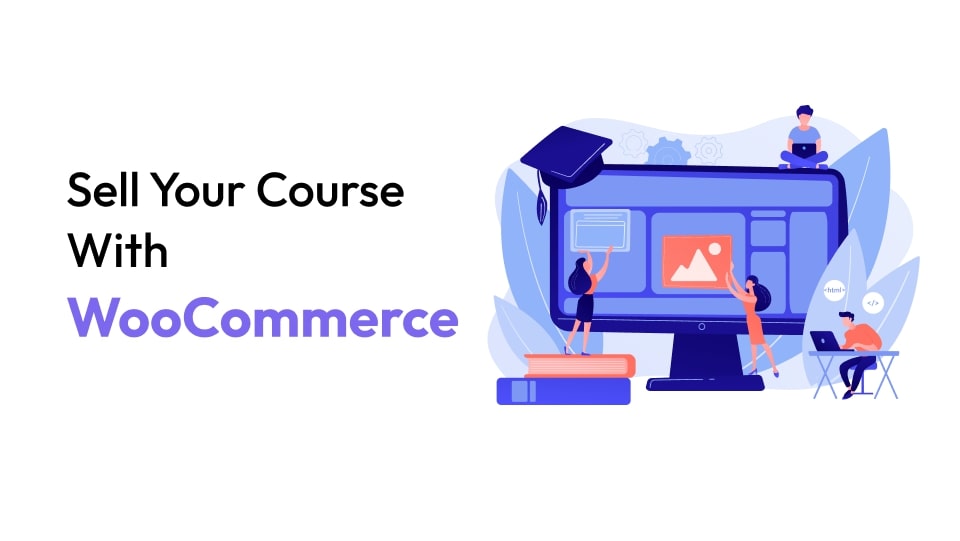 Sell Online Course With WooCommerce on WordPress in 2023
Selling online courses and training on your WordPress website can generate additional revenue and make some money.
More people are learning how to sell online courses because they find it convenient and easy to work from home or anywhere in the world. That's why it pays to look at selling courses as an opportunity that can generate revenue and make you money in other ways, like affiliate marketing with products such as WooCommerce plugins reported here.
So, if you are considering selling online courses, this article will show you how to sell online course with WooCommerce using a WordPress website.
Why Choose WooCommerce for Selling Online Courses?
WooCommerce is the go-to option for selling any kind of goods on WordPress, whether they are physical or digital online courses.
It is by far the most common method for converting your WordPress website into a store, with around 5 million active installs.
You can select how you wish to be paid with WooCommerce as well. You may easily get paid by using more than 100 payment methods, including well-known ones like Stripe, PayPal, and Square.
How much is Woocommerce?
WooCommerce is a free plugin for WordPress, so that is true. If you want to increase its feature set, there are a few available extensions that are both free and premium. This, while occasionally expensive, is not excessively so.
It has a ton more to offer through free plugins and far fewer expensive themes and extensions. Overall, using WooCommerce will save you a ton of money in the long run because you won't need to employ a developer for everything you need to accomplish.
You have access to WooCommerce, the Internet's fastest-growing eCommerce platform. You may develop, administer, and design your online stores using this practical plugin.
You may always test one plugin after another to build a store that genuinely satisfies your demands because the WooCommerce ecosystem is wide and expansive.
Does WooCommerce Take a Percentage of Sales?
There is no setup fee and no monthly fee for WooCommerce Payments. For any transaction made using credit or debit cards issued in the United States, you are charged 2.9% + $0.30. There is an extra 1% cost for cards issued outside of the United States.
How to Sell Online Course with WooCommerce
Sell online course with WooCommerce is easy. The WordPress creators, Automattic, have developed a seamless method for you to sell courses, attract new clients, and provide additional physical or digital goods all from the same website.
A WordPress website is a must for you to sell online courses. WordPress is free and open source, and Academy LMS is needed to create courses for sale online. You can create courses with Academy LMS for free. And all the created courses can be sold through the WordPress website by using the WooCommerce plugin.
The Academy LMS is the best solution for creating an online course website with WordPress and selling online courses. Although it is very user-friendly, an LMS platform may be scaled to handle high user demand. The best of both worlds, Academy LMS and WooCommerce will demonstrate how to sell courses online.
So install Academy LMS on your WordPress website and create a course for sale. Install WooCommerce on your WordPress website.
How to Create a Product in Woocommerce
The first step to selling an online course is creating one for your LMS is to create a corresponding WooCommerce product. To do that, go to the navigation bar on your WordPress dashboard and select Products under WooCommerce, then click on Create Product.
To create a new WooCommerce product, after clicking the Create Product button, a dashboard will appear to add a new Woocommerce product. You must now fill in the essentials, such as choosing a product name and adding a category for your course product, before scrolling down and finishing the remaining options.
If sales or discounts are a part of your pricing plan, you may select both the Regular price and the sales/discount price of your course here. From here, set a Product image and add tags. Any extra options on this page that don't affect the Academy LMS plugin's core operation are free to be changed.
But keep in mind to mark the paragraph that says For Academy LMS. Academy LMS will configure it automatically if you forget.
When all the options are complete, scroll up a little and click Publish. Your first selling product on WooCommerce is now available.
Go return to the Academy LMS plugin dashboard and select All Courses. You can choose a course from this list to place under the Content column, where you can then update the course's details by clicking the Edit button.
You can scroll down to see the paid option after that. When you click the "Paid" button, a drop-down menu will appear from which you can choose a product from the available choices on the list. You can use this action to get to the product you previously created in the WooCommerce Products area.
As many paid products as you want can be created; they will all appear in the dropdown menu in the Select Product section.
Click the "Update" button above to save and update your content changes right away. When the update is complete, kindly click the Permalink to access the course.
You might have noticed a pricing adjustment while browsing while viewing your course. You can view the pricing information, including prior prices and discount rules, in the product settings section of WooCommerce, which manages the methodology behind this procedure.
Additionally, you will receive an Add to Cart button that includes all of the checkout and cart features that WooCommerce generally provides. WooCommerce will therefore manage all functionality relating to products and carts. Clicking on "Add to Cart" will start the purchasing procedure for the product.
It's time to start selling online courses to the general public now that everything has been set up and you've chosen the WooCommerce products from the Add Product menu.
When a user hits "Add to Cart," they are taken to the checkout page. If they choose to purchase the course, they will then have access to all of the course materials.
Congratulations! Using Academy LMS and WooCommerce, you have just sold your first course.
Disclaimer for WooCommerce Settings
For Academy LMS users who sell their online courses with Academy LMS, here are some settings for you to modify.
Guest Checkout Section:
1st option does not check to mark it: This option allows customers to complete a purchase without creating an account. They will only be asked to provide their billing and shipping information and payment details.
2nd option, check it: This option requires customers to create an account before they can complete a purchase.
Account Creation Section:
Put a checkmark next to it: "Allow customers to create an account during checkout." This option allows them to create an account while checking out. This can be useful for customers who want to save their information for future purchases.
By configuring this setting, Academy LMS will force students to log in to buy a course, and if you do not configure this setting, then students who buy a course will not get access to the course.
Final Thoughts
Building your LMS website and starting to sell courses using WooCommerce are both quite simple processes. Everything may be done for nothing. What are you still holding out for? The ideal time to begin was yesterday, and the second ideal time is right now.
We hope you have enjoyed the blog about sell online course with Woocommerce on WordPress. If you liked this blog and want more like it, then you can follow our Twitter account for the latest posts, and you can also join our Facebook community for more.
FAQ: Frequently Asked Questions About WooCommerce
Will WooCommerce work with my theme?

Yes! Any theme can be used with WooCommerce, but additional styling could be needed. We suggest Storefront if you're seeking a theme with strong WooCommerce integration.

Where can I find WooCommerce user manuals and documentation?

Where can I get help or talk to other users about WooCommerce Core?