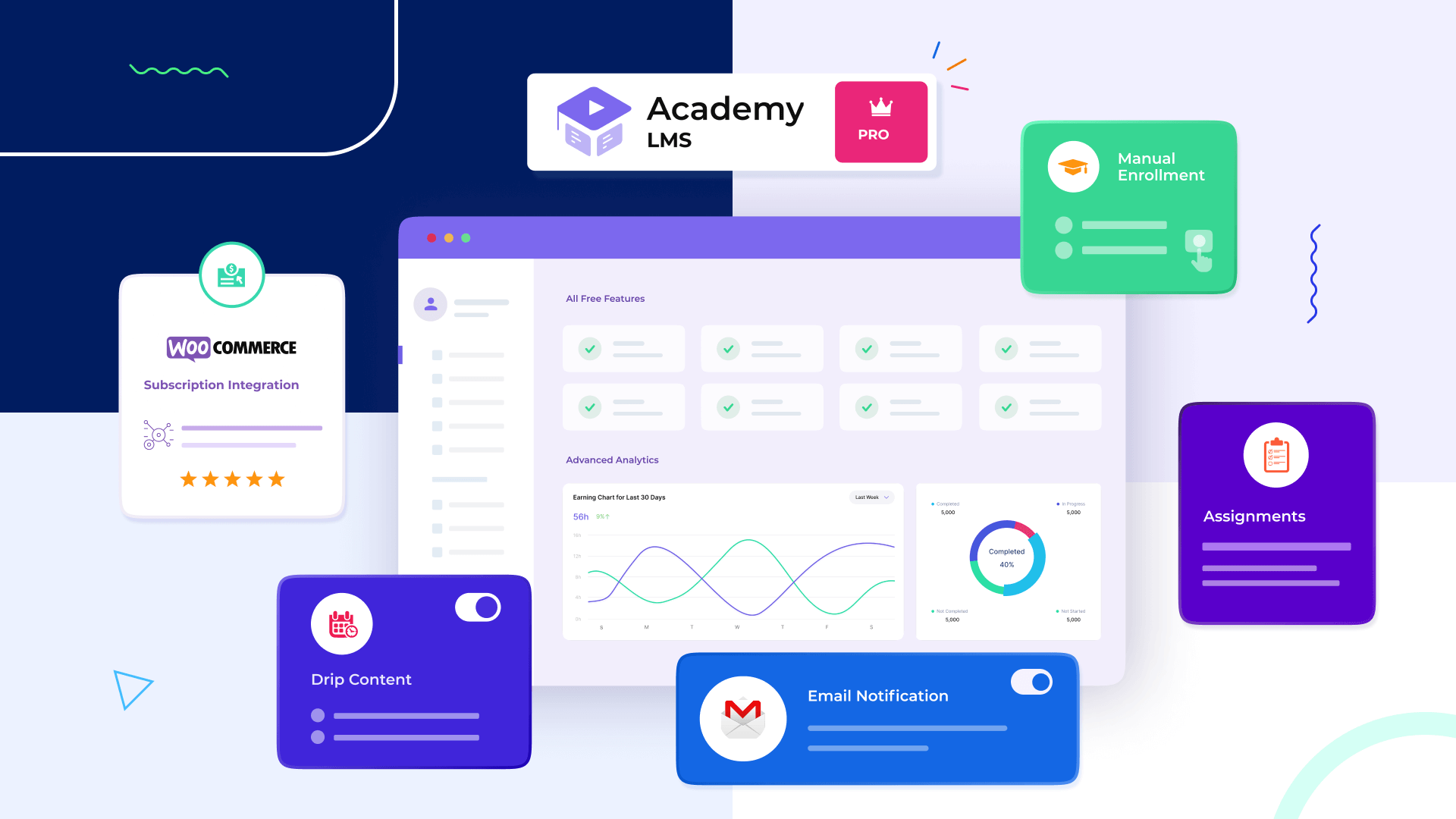 Elearning Business Made Easier – Introducing Academy LMS Pro
Greetings to all online learners, education entrepreneurs, and eLearning enthusiasts out there. This year, we share the greatest news for those using Academy LMS as their online learning platform. We are bringing you Academy LMS Pro, which is smoother, faster, and better for running your eLearning business.
Since day one of Academy LMS, we've got huge motivation and recommendations from our users. We really appreciate the kind support of our users, for whom we've reached this milestone. All our team members worked really hard and improved the plugin with exceptional user experience and amazing features.
We've worked really hard to ensure that your migration to Academy LMS Pro goes as seamlessly as possible. We even worked closely with our users to ensure that Academy LMS Pro works flawlessly. You can now create an eLearning site with the Academy LMS Pro Edition, which will be worth your money.
Let's explore what Academy LMS offers us with its magnificent Pro version.
Academy LMS Pro for your eLearning Business
It took a lot of effort from each member of the Academy LMS team to launch this premium version. The vision behind Academy LMS was to present the next-generation WordPress LMS plugin. Since then, we've developed significant performance upgrades to provide a professional learning tool for the eLearning business industry.
Now, the newly released Academy LMS Pro is worth investing your money in running an eLearning business. All the features have been tested and proven to be useful for creating and maintaining an eLearning platform.
The most important thing behind Academy LMS is its super fast user interface and features. But Academy LMS Pro offers an even faster, more efficient user experience with the following Pro features.
Added
Email Notification: Send Email notifications to the students, instructors, and users without leaving your eLearning site.
Manual Enrollment: Admin can now manually enroll a student in a specific course.
Drip Content: With this feature, Admins or Instructors can schedule lessons based on certain criteria.
WooCommerce Subscription Integration: Users can purchase paid courses with the assistance of WooCommerce subscription integration.
Upcoming Feature [Next Week]
Advanced Analytics
Assignment
Fixed
Course's Featured Image stretch Issue
Lesson Modal Video Popup Issue
Login Modal Responsive Issue Fixed
Registration form Membership Permission Issue
Updated
Apart from the features, improvements, and fixes mentioned above, we are still working with the plugin. We are running some under-the-roof modifications to provide something out of the box for our users. You can check our development progress and upcoming plans in our public roadmap section.
Academy LMS Pro Pricing Plan – eLearning Business Simplified
Our ambition is to transform the online learning platform so that users can be more reliable and efficient with their time. In order to achieve that, we have applied some noticeable changes to our product while maintaining a flexible price point.
Since our Black Friday campaign is going on, you will get the following price plan for Academy LMS. This exclusive pricing will be available only throughout the Black Friday season. Thus, it's the best time to grab the deal and get this next-gen WordPress LMS plugin.
Before setting the price, It took months of QA testing, bug fixes, performance upgrades, and feature addition. In the meantime, we've collected all the feedback and user preference to make the plugin ideal for the eLearning business.
After conducting some thorough phases of beta testing, we are happy to declare that Academy LMS Pro. The plugin is ready to roll in the eLearning industry with its Pro version and flexible pricing formats. Users can now easily create an eLearning website within their budget and establish their eLearning business.
Amazing Features On The Table For Elearning Business
With Academy LMS, we are aiming to spread eLearning opportunities for learners of all trades. That is why we've made most of our features available in the free version. But we are launching the pro version to improve this next-generation LMS plugin and keep our motivation alive. For now, we are releasing six pro features.
Let's explore the features and some exciting new information about LMS Pro.
Better Communication Via Email Notification
We've introduced the addon feature in our recent 1.3.1 version update, where you will get some essential addons. You can simply activate the addon and get that feature ready to use. However, in the pro version, we've added the Email Notification Feature, which is an exclusive add-on.
After activating the Email Notification from the Addon section, you will be able to view the Email option from Settings.
On general settings of email, you can set recipients, content type, and footer text for automatic notification. Up next, there is an Enroll courses option which allows you to send email notifications upon course enrollment.
By activating the Email Notification, you will be able to send automated emails to the students & instructors. You can notify the students and instructors upon course enrollment, successful course completion, and quiz completion.
Here are the Email notification option available in Academy LMS Pro:
For Enroll Courses, Admin, Instructor, and User will get notified when a student gets enrolled for a course. The same goes for Finished courses, where Admin, Instructors, and users get email notifications when a course is finished by the students.
You can enable or disable the email notification to the admins when a course enrollment request is placed. Then you can set the email's subject and create the email body from this page. Finally, you can get a preview in the same section and send a test mail to check if the settings are ok.
The third option is- Become An Instructor, where the admin gets an email notification when someone requests to become an instructor. The applicant also gets an email notification if accepted or denied.
With an email notification system, communication becomes automated for significant scenarios. Admins, students, and instructors are getting system-generated emails effortlessly and automatically. Hence, you are getting a better eLearning business management option with this feature.
Flexible Course Control via Manual Enrollment
Manual Enrollment is yet another amazing course management feature of Academy LMS Pro. This feature is available in the Academy LMS addon section, where you need to activate it. After activating this addon.
Simply go to Add-ons and activate the Manual Enrolment addon to activate this feature. After activating it, click the Wheel icon to move on to the manual enrollment process.
Now, you will be redirected to the Students section, where you can click the Enroll Student button and start the manual enrolment process.
After clicking the button, you will get a popup on your screen for manual enrollment. Admin can enter the student's name and then select a course to enroll the student in that selected course.
This feature allows the administrator to gain more control over courses, which is crucial to maintaining a website for learning. Once a student has been manually enrolled in your eLearning site, you can view their information in the All Students section.
Let's say a student has completed a course on your eLearning site and wants to take more courses. If the course is not visible upon request, students are getting more courses with the admin's approval.
This feature also becomes handy when a student is having trouble enrolling in a course. However, administrators may manually enroll a student to add them to a course as a supplement.
Now let's move on to the Academy LMS Pro feature that will enhance your eLearning business.
Schedule Course Contents Using Content Drip
If you manage an online learning platform, you must carefully schedule the course content. Because they should access courses one at a time after progressively learning a lesson.
The learners should only have immediate access to part of the set of course materials. because it's possible for students to start one course by accident while skipping an essential one. This is where Academy LMS Pro's Drip Content Feature will help you schedule the course content.
This feature is also available in the Addon section of the Academy LMS, where you can enable it. It allows admins or instructors to set the schedule for course content. As a result, the course content will be available to the students based on the selected schedule.
Drip Content contains the following options for scheduling course content:
Schedule course contents by date
Content available after X Days from enrolment
Course content available sequentially
Course content unlocked after finishing prerequisites
Let's say a course is scheduled for 4 months and all the course contents are available for the student. However, if students go on to the next course before completing the previous one, they need to learn more effectively.
The Drip content allows students to learn progressively within a given schedule, and courses will be unlocked by following certain conditions such as date, enrollment date, sequence, and prerequisites. With this approach, you may maintain the natural sequence of learning in your online learning platform.
Payment Collection Via WooCommerce Subscription Integration
WooCommerce Subscriptions integration is another essential feature of Academy LMS Pro. With this feature, the payment process gets automated along with the subscription deadline. Users can therefore buy paid courses through a monthly or annual subscription. Furthermore, at the end of each month or year, the subscription is auto-renewed via a recurring payment method.
You need the following plugins installed and activated to get WooCommerce Subscriptions Integration:
Academy LMS
Academy LMS Pro
WooCommerce
WooCommerce Subscriptions

After installing the above-mentioned plugins, go to the Addon section of the Academy LMS and enable the subscription integration. This feature will assist students in registering for a course via a subscription-based payment method.
With Woocommerce subscription integration, your eLearning business will experience a variety of benefits, such as
Multiple billing cycles are available to accommodate the demands of your business.
More than 25 payment gateways are available for collecting recurring payments.
Manual payment renewals through several payment gateways, along with receipts and invoices.
You won't lose revenue since it supports automatic rebilling upon failed subscriptions.
Subscribers can choose their own plan.
Admins and users will get detailed reports on revenue, renewal, subscription, and more.
Apart from the above-mentioned five features, we are going to upgrade our other add-ons as well. Our aim is to provide an eLearning ecosystem so that you can create an eLearning website that thrives in the marketplace.
Maintain eLearning Business With Advanced Analytics
You will get some basic info related to your eLearning site while using the free version of Academy LMS. But the pro version will unlock advanced analytics options that will improve your overall eLearning metrics. Even though we'll be releasing this fantastic pro feature the following week, let's first take a quick trip through it.
The Advanced Analytics feature comes with two new cards on Total Quiz and Assignment. Therefore, you are getting info on the number of available quizzes and assignments.
You will get the following analytics on your eLearning business:
Total earnings
Courses Enrolled
Total Refund
Total Discounts
You will get a detailed graph for the information mentioned above that will help you set your next goal. Also, you will see course progress displayed in a pie chart to determine how successful a course is. As a result, the advanced analytics will enhance your eLearning site maintenance capability massively.
Apart from the cards and graphs, there will be a new section with more insights into your eLearning platform. In that new section, you will get the following crucial information:
Most Popular Courses: Get details on the most popular course name, the number of students enrolled in it, ratings, and the course link.
Last Enrolled Courses: Get info on the last enrolled course name, enrollment date, course rating, and the course link.
Recent Reviews: Get the recently reviewed course name, date of review, and students name (Review provider)
New Registered Students: Registered student's name, email address, and register date
New Registered Teachers: Registered Teacher's name, email address, register date
Maintaining and improving your eLearning business becomes bliss with all this information in a centralized dashboard. You can quickly get the necessary insight into your online learning platform.
Note: The Advanced Analytics feature is still under development, and we are going to release it soon.
Get Academy LMS Pro To Skyrocket your eLearning Business
We've tried to provide in-depth knowledge about the features of Academy LMS Pro. Now, it's time to choose your pricing plan and enhance your eLearning business further. If you are using Academy LMS for free and are willing to upgrade to our Pro version, now is the best time to do so.
Take Your Time To Create A Backup
Suggestion: Before upgrading to the Pro Plan, we recommend you create a backup of your site. Also, make sure you've updated your plugins and themes on your WordPress website. This is a clear reminder to take the necessary steps before making this major upgrade. We want to ensure that your eLearning business runs smoothly after installing the pro version of our plugin.
It's time to upgrade your eLearning business with Academy LMS Pro
That is not all!! We are still tweaking our plugin to cope with the latest trends in the eLearning industry. In the coming days, you will get more next-level features from us, and we will need your continuous support. Stay tuned with Academy LMS to get the latest price plan and establish a unique eLearning website.
Please let us know if you have any suggestions to improve Academy LMS Pro and add new features. We are available 24/7 to assist you through our support center with any solution regarding our plugin. You can also join our Facebook or Twitter community, where you can grow with us.