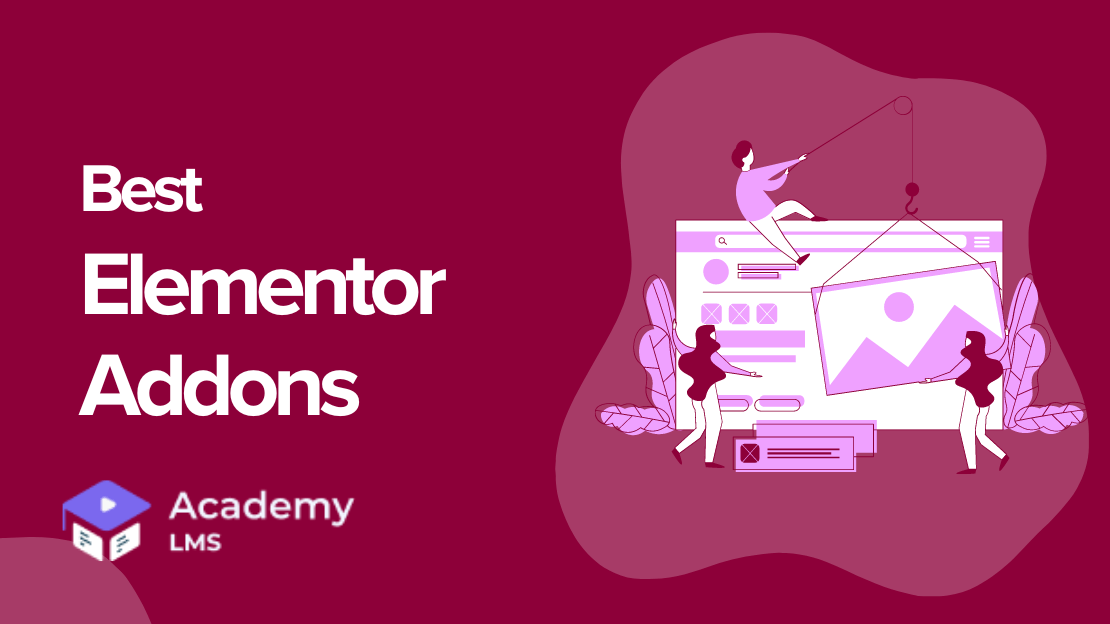 10 Best Elementor Addons for Creating Stunning Websites
Are you looking for ways to take your website design to the next level? If so, Elementor Addons can help make your vision a reality. With their powerful tools, you can create stunning websites easily and quickly. In this blog post, we will explore 10 best Elementor Addons that are essential for creating beautiful and eye-catching websites.
Brief about Elementor
Elementor is a popular WordPress page builder plugin that helps website creators build their sites with ease. It is a drag-and-drop tool that allows users to design their pages without any coding knowledge visually. Elementor offers numerous pre-built widgets and templates that make it quick and easy to create professional-looking websites.
Additionally, it has a user-friendly interface that ensures even beginners can navigate it with no difficulty. Elementor provides a plethora of customization options, making it an excellent tool for website designers and developers who want to save time and still create beautiful and functional sites. Whether for blogs, online stores, or corporate websites, Elementor can give website creators everything they need to bring their ideas to life.
What are Elementor Addons?
Elementor Addons are extensions or plugins that enhance the functionality and features of the popular WordPress page builder, Elementor. Each add-ons offer a wide range of additional elements, widgets, templates, and customization options, allowing users to create stunning and unique websites with ease.
From advanced widgets and modules to pre-designed templates and blocks, Elementor Addons provide an extensive library of resources to elevate the design and functionality of your website. Whether you need specialized elements for e-commerce, dynamic content, or interactive effects, these add-ons expand the capabilities of Elementor and unlock endless possibilities for creating visually appealing and engaging web pages.
With regular updates and new additions, Elementor Addons continue to evolve, providing users with a comprehensive toolkit to build professional and captivating websites.
Benefits of Using Elementor Addons
As a website builder, using Elementor addons can greatly benefit your work. These addons allow you to expand the functionality of Elementor and add new features that improve the overall user experience.
Time-saving: With pre-designed templates and ready-to-use widgets, Elementor addons can significantly reduce the time spent on designing and building your website. You can simply drag and drop elements and customize them according to your requirements.
Customization Flexibility: Elementor addons allow you to customize every aspect of your website, from fonts and colors to layouts and spacing. You have complete control over the design, ensuring that your website matches your brand identity and vision.
Expandable Functionality: Elementor addons often come with additional modules and extensions, allowing you to extend the functionality of your website. You can add features like contact forms, pop-ups, social media integration, and more with ease.
Cost-effective: Using Elementor addons can be a cost-effective solution compared to hiring a developer or designer to create custom functionalities for your website. The addons provide a range of features at a fraction of the cost.
Improved User Experience: By leveraging the additional design options and functionality provided by Elementor addons, you can create a more engaging and user-friendly website. This can lead to higher visitor retention, increased conversions, and improved user satisfaction.
10 Best Elementor Addons to Create Stunning Websites
Here is an extensive list of impressive, modern, and remarkable Elementor addons that you should definitely consider incorporating into your website-building arsenal:
HT Mega
The HT Mega is a versatile and comprehensive Elementor addons package designed for WordPress users. Whether you're a seasoned developer or just starting with WordPress, this package has everything you need to create a stunning and professional website. With a wide array of widgets, pre-designed templates, forms, and tables, you can easily customize your site to suit your unique requirements.
Thanks to its integration with Elementor, one of the most popular page builders for WordPress, building and designing your website becomes a seamless and enjoyable experience. The plugin offers a diverse selection of widgets, including blog widgets, sliders, accordions, and more, allowing you to add interactive and dynamic elements to your site effortlessly.
With a staggering collection of over 760 Elementor Blocks, 110+ Elementor Widgets, and 170+ Page Templates spanning across 40+ categories, your creativity knows no bounds. Embrace the power of HT Mega and unlock endless possibilities for your WordPress website. The plugin also has a free version available.
No matter the type of website you want to create, the HT Mega plugin promises to deliver all the necessary tools and features to bring your vision to life with ease and efficiency.
Key Features
391 Elementor blocks.
80+ different Elementor widgets
91+ Page Templates.
Cross Domain Copy Paste / Live Copy
Pricing:
One Year-
Personal: $49 (For 1 website)
Developer: $79 (For 5 websites)
Growth: $99 (For 999 websites)
One Time-
Move Addons
Move Addons is the ultimate Elementor toolkit designed to take your website to the next level and boost conversions. With over 80 meticulously crafted Elementor widgets at your disposal, the possibilities for optimizing your designs are endless. These premium premade elements offer seamless integration into your website, elevating its overall appeal and user experience.
But that's not all, Move Addons is built with a strong focus on performance. You can rest easy knowing that your site's loading time won't be compromised. Thanks to its lightweight design, this plugin ensures your website will be blazing fast, providing a smooth and enjoyable browsing experience for your visitors.
No need to worry about compatibility either. Move Addons has been thoroughly tested and is fully compatible with any WordPress theme that supports Elementor. Whether your audience uses Chrome, Firefox, Safari, or any other major web browser, your website will look flawless and function seamlessly across all platforms. The good news is you can also give the free version of Move Addons a shot first before moving to its premium version.
Key Features
80+ Widgets
Access to Template Library
On-Demand Asset Loading
Cross Domain Copy Paste
Support Response 24 hr
Pricing:
Yearly Bundle-
Personal: $39/year
Developer: $89/year
Agency: $179/year
Lifetime Bundle-
ShopLentor
If you own a WooCommerce website, you'll undoubtedly want to take advantage of the impressive capabilities offered by various plugins. One such comprehensive solution is ShopLentor – Elementor WooCommerce Builder, a must-have for any online store looking to stand out from the crowd. With ShopLentor, you can break free from the ordinary and mundane store designs commonly seen elsewhere.
The plugin's main highlight is its robust WooCommerce page builder for Elementor. This powerful tool empowers you to create captivating and unique designs for all your WooCommerce pages right from scratch without being confined to the default layouts provided by WooCommerce. It puts you in full control of the aesthetics and functionality of your online store, allowing you to create a shopping experience tailored to your brand and customers.
ShopLentor's free version already offers extensive customization options for designing your Shop and Product details pages. However, the pro version opens up even more possibilities, making every aspect of your store customizable according to your preferences.
What's more, ShopLentor is jam-packed with 105 Elementor Widgets, 54 Gutenberg Blocks and countless ready page templates. Its Elementor widgets are packed with extensive customization options. These widgets enable you to add essential features and functionalities to your store effortlessly. From product comparison tables and WooCommerce order notifications to product quick view and flash sale countdown, ShopLentor has got you covered.
Key Features
Custom Cart Page Builder
Custom Checkout Page Builder
Custom My Account Page Builder
Sticky Add to cart
Template Library (Premium)
Pricing:
Yearly-
Plus: $59/year
Elite: $159/year
Agency: $299/year
Bundle: $499/year
Onetime-
HT Slider For Elementor
HT Slider For Elementor is a powerful and user-friendly add-on designed specifically for the Elementor page builder. With this add-on, creating sliders becomes a breeze as it offers a seamless drag-and-drop functionality. Whether you're a seasoned web developer or a beginner, you can now effortlessly craft stunning sliders that enhance the visual appeal of your website.
The intuitive interface of HT Slider For Elementor allows you to customize every aspect of the slider, from the transition effects and slide duration to the images and text displayed. Say goodbye to complex coding and say hello to a world of endless creative possibilities with this fantastic Elementor add-on.
Elevate your web design game and captivate your audience with engaging and dynamic sliders that will leave a lasting impression. Try HT Slider For Elementor today and see your website come to life with captivating slideshows that showcase your content in the most captivating way possible.
Key Features
Custom Styling Options
Show by id and category wise.
Mobile and Tablet display options.
Slider Navigation and paginations custom design options.
JetWidgets For Elementor
JetWidgets offers a remarkable collection of widgets specifically designed for Elementor, allowing you to effortlessly create various types of content. Each widget within its set comes with its own set of content styling options, eliminating the need for coding skills. Simply drag and drop the desired widget onto your page and customize its content and appearance to suit your preferences with just a few clicks. With JetWidgets, you can easily enhance your website's visual appeal and functionality without any hassle.
Key Features
Compatible with WordPress Version 4.7 and higher
Easy and fast design template
Professional customer support available
Tons of widgets such as advanced carousel, animated box, team member, pricing table and more
Exclusive Addons for Elementor
Exclusive Addons is a leading Elementor Addons provider, offering users a cutting-edge and stylish design for their Elementor page building endeavors. With a wide range of features and options, this addon empowers users to craft sophisticated website experiences using over 100 highly customizable and creative elements and extensions.
Thanks to its extensive collection of 800+ premade blocks, building websites becomes a breeze, eliminating the need for coding and saving valuable time. Whether you're a beginner or an experienced developer, Exclusive Addons is sure to enhance your Elementor experience and take your web design to the next level.
Key Features
49 ready-made Elementor widgets
11 extensions
Custom positioning
Custom CSS
Happy Addons for Elementor
Happy Addons for Elementor is a top-notch addon that offers an impressive Theme Builder, encompassing Header Footer Builder, Single Post Template Builder, and Archive Page Template Builder all for free. With a vast collection of 143+ Free & Pro Widgets and 23+ Problem-Solving Features, it elevates the capabilities of Elementor Free & Pro.
The widgets are not just limited to customizations; they stand out from other third-party Elementor addon widgets in terms of flexibility and versatility.
This addon will undoubtedly expand your design skills, and the availability of 70+ full-page Templates and 500+ ready-made design blocks will greatly speed up your workflow, making it an excellent tool to kickstart your projects effortlessly.
Key Features
143+ Free and pro widgets
23+ Problem solving features
Vast ready-made design blocks
70+ Full page templates
Pricing:
Annual-
Starter- $39/1 site/ 1 year
Professional- $89/ 5 sites/ 1 year
Business- $189/ 1000 sites/ 1 year
Lifetime-
Ultimate Addons for Elementor
With Ultimate Addons for Elementor, you can truly make your website stand out with impactful design. The library of creative and unique widgets offers a wide range of design possibilities, whether you're an experienced design professional or a newcomer. You'll find over 40 widgets and extensions, giving you the tools you need to enhance your workflow and create exceptional designs effortlessly.
Additionally, the vast collection includes 100+ website templates and 200+ section blocks, making it even easier to craft a visually stunning and functional website that leaves a lasting impression on your visitors. Elevate your Elementor experience with Ultimate Addons and take your web design to new heights.
Key Features
50+ Pre Built and Widgets
Pre Built blocks and templates
Mobile-Friendly and responsive widgets
Pricing:
Annual-
Ultimate Addons: $57
Essential Bundle: $137
Growth Bundle: $187
Lifetime-
Unlimited Elements for Elementor
Elevate your Elementor page building experience with the exceptional features of Unlimited Elements for Elementor. This all-inclusive widget pack is the ultimate solution you'll ever need, boasting over +100 free widgets for your Elementor website, all conveniently located in one place. The user-friendly elements are meticulously crafted using our distinct Widget Creator framework, ensuring smooth and effortless customization.
Whether you choose from the extensive collection of free widgets or opt for the pro version, you'll gain access to an additional +200 exclusive widgets tailored for Elementor. Each element is equipped with a plethora of options, granting you full control over every aspect of your design. You can find any missing elements, effortlessly add them using the innovative Widget Creator Framework.
With this set of Addons you can take your Elementor design to new heights!
Key Features
100+ Free widgets
Dynamic loop builder
Clutter free
24/7 Support
Pricing:
Annual-
Starter: $49/ 1 site/ 1 year
Business: $149/ Unlimited sites/ 1 year
Professional: $99/ 5 sites/ 1 year
Lifetime-
Mighty Addons for Elementor
Mighty Addons is an impressive collection of premium quality addons for Elementor page builder, constantly expanding and improving. With just two clicks, you can easily copy and paste sections, widgets, or entire pages from one domain to another, streamlining your development process.
One of the standout features is the pre-designed template kits. These kits group multiple pages together, tailored for specific themes. Whether you need a business Elementor theme or something else, you can import the relevant pages and replace dummy content with your own, including Home, About, Services, Services Detail, FAQ, Contact, and more.
Additionally, the library offers ready-to-use blocks and sections that you can easily insert into any Elementor page. From Hero sections to other designs, you'll find a variety of categories and both dark and light shades to choose from.
And to top it off, the integration with Pixabay in Elementor opens up a world of high-quality images for your designs. Explore the possibilities and enhance your website-building experience with Mighty Addons.
Key Features
Pixabay & Unsplash Integration
Inbuild FAQ Schema & Opening Hours Schema Integration
Customize the elements and widgets with a single click.
Pricing:
Yearly:
Starter- $15
VIP- $25
Elite- $50
Lifetime:
Frequently Asked Questions
Are Elementor addons compatible with the free version of Elementor?
Yes, most Elementor addons are compatible with both the free and Pro versions of Elementor. However, certain advanced features and functionalities may require the Pro version.
Do Elementor addons slow down my website?
The impact on website speed and performance can vary depending on the specific Elementor addons and their optimization. It's recommended to choose well-coded and optimized addons to minimize any potential slowdowns.
Can I use Elementor addons with any WordPress theme?
In most cases, Elementor addons are designed to work with any WordPress theme. However, it's always advisable to check the compatibility of specific addons with your chosen theme before installation.
Are Elementor addons beginner-friendly?
Many Elementor addons are designed to be user-friendly, with intuitive interfaces and drag-and-drop capabilities. They often include documentation and tutorials to help beginners get started easily.
How frequently are Elementor addons updated?
The frequency of updates can vary depending on the addon developer. However, reputable Elementor addons developers usually release regular updates to ensure compatibility with the latest versions of Elementor and WordPress and to introduce new features and improvements.
Final Words
As we have explored, Elementor is a powerful tool that allows you to create various kinds of interactive and visually stunning websites with ease. With the addition of addons, one can truly unlock the potential of Elementor and create dynamic sites that display their unique vision for their business or organization. Whether it be something as simple as additional widgets or something far more intricate like learning management systems, there are plenty of addons available to choose from.
By considering each option carefully and weighing them against your specific needs, you can come up with the ideal addition to your website. Once you've found the addon that suits you best, learning how to use it will make all the difference when it comes to creating the website of your dreams with Elementor.