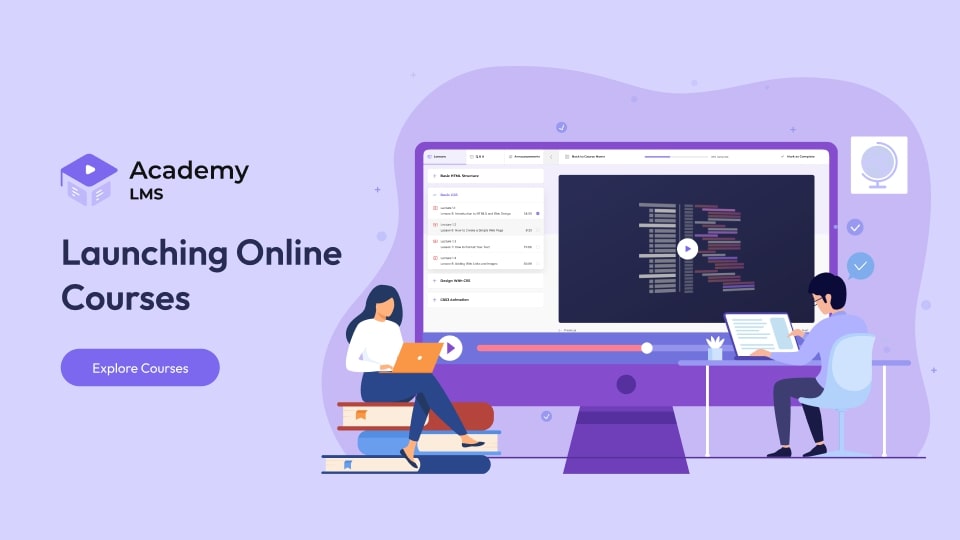 How to Launch An Online Course: 9 Best Practices
You may have launched a unique eLearning website with your tireless effort. After completing all the course-related activities, it's time to launch your course online. However, have you examined the specifications, or are you planning to launch it immediately?
Creating a flawless online learning platform is essential to launch your course. But launching online course the right way is similarly important. Because if you don't give your courses the finishing touch, all your efforts will become useless.
You must apply various strategies to launch a practical eLearning course and ensure its exposure. At Academy LMS, we are ready to assist you in launching online course in a smart way. Therefore, you don't need to worry about selling your courses to learners around the globe.
This article will present proven strategies to create hype, ensure pre-books, and launch your eLearning course successfully. So, let's dive into the post of how to launch an online course.
Why should you launch an online course?
Before knowing how to launch an online course. We need to know why should you launch an online course. Launching an online course can be a game-changer for you and your career. With the availability of free online courses, you can learn from the best and gain valuable knowledge. But why stop there? By creating your own online course, you have the potential to reach a wider audience and make a positive impact on people's lives.
Imagine a scenario where your course does well and becomes a profitable online course! The possibilities are endless. Creating an online course allows you to share your expertise and passion with others. You can include various resources, such as videos, quizzes, and downloadable materials in your course to enhance the learning experience. Take charge and get your online course out there.
But don't just stop at one! Online courses are a great way to generate passive income, and with each successful course, your credibility and influence grow. So, start brainstorming ideas for your next course and take the leap into the world of online education. Remember, with each course you create, you have the potential to create a successful and fulfilling career for yourself and make a difference in the lives of others. Don't wait any longer, dive into the world of online education and start transforming lives today!
How to choose a launch strategy for your course?
When it comes to choosing a launch strategy for your course, there are several key factors to consider. First, you'll need to create a profitable online course topic that resonates with your target audience. This means conducting thorough market research to identify a topic that people are willing to pay for and that aligns with your expertise.
Once you have a compelling topic, you'll need to learn how to create engaging and valuable course content. This includes selecting the right course hosting platform that offers the features and functionality you need to deliver your course effectively. Additionally, you'll want to invest time and resources into creating the best course possible, ensuring that it is well-structured, visually appealing, and filled with actionable insights. Lastly, you'll need to plan your launch to create the best impact.
This may involve building pre-launch excitement, offering early bird discounts, and strategically marketing your course to your target audience. By considering these factors and implementing a strategic launch plan, you can maximize your chances of success in the competitive online course market.
New let's dive into the 9 best practices of how to launch an online course.
Selecting the Fastest LMS Platform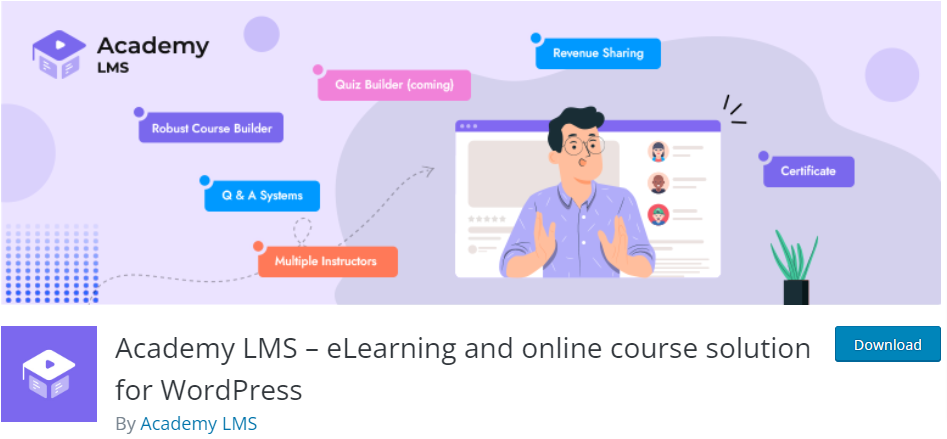 Priority comes first! To keep your desired sales ongoing, you must create fantastic courses. Selecting the fastest LMS platform will complete the majority of your task.
You can get the best out of your eLearning website with the fastest and most flawless LMS platform. When it comes to using the right LMS platform, It offers you the fastest interface to develop, administer, and sell courses via your website.
Academy LMS is your tool for creating the most advanced eLearning platform. With this WordPress plugin, you can create your eLearning site in the shortest possible time. Packed with all the necessary features and add-ons, it assists you in launching online course the right way.
With Academy LMS, you can build an eLearning site from scratch or import the entire site. Therefore, you are headache of creating the site gone. Then with the LMS features, you just you can create your courses and publish them very easily.
Furthermore, you can creatively present the courses and necessary pages using this LMS plugin. Because this plugin is compatible with Gutenberg, Elementor, and different themes available in WordPress.
The plugin also supports WooCommerce enhancing its ability to be used for selling and payment processing. Therefore, you don't need to create the product from the backend manually. Finally, you will get complete monetization support with swift money management and commission allocation.
Defining The Unique Selling Point
You have planned to launch the course online and earn money from it. But are you creating something exceptional to stand out? Because if you aren't producing something unique and different from others, you probably won't have a chance to compete.
There are other players in the market with the same category of plugins you have. Moreover, they are creating similar courses that add enough value for the clients. Thus, you must highlight the unique selling points through your site and present them to the audience. This is how you have to create a strong reputation among your competitors.
However, as you develop the concepts of your courses, your unique selling points should be clear. But if you haven't made it clear and launched your course, you might end up losing sales. Your marketing objectives will be more shaped and targeted if you can identify your USP.
One of the unique selling points of Academy LMS is its features that come for free. While other plugins provide essential features to create an LMS platform with their paid version. You will get similar features for free and with the added speed due to react.js.
Launching a Trial Version of Your Course
Take a tour of your course by assuming the role of a student on your own eLearning website. This way, you can judge the course from the learner's perspective. You will be able to find out the effectiveness and flaws of your course content.
Taking the test yourself is a crucial step, and here's why:
Can identify if the course is easy to grasp
Decide if the information about the course is valid
Experience all the angles of a course from a learner's view
Sort out the flaws, grammatical errors, and complexity before launching
You can also launch a trial version of the course for the students via your website. If you are truly offering something out of the box, learners will surely enroll for the full version of the course.
We recommend you launch a highly demanding and partial demo version of your course. Don't forget to enable the feedback option for that course. You will surely understand the demand and students' willingness toward your course by counting the people taking the course. Besides, you will get feedback instantly from your students regarding the course.
Making Teasers To Raise Anticipation
Publicity plays a vital role in creating a buzz for a product. The same is true when starting an online course using an eLearning platform. You must ascend the ladders one step at a time before even starting a course. But how?
You need to create a teaser full of information and follow these steps:
Host webinars and showcase the necessity of the course that you are going to launch
Create Blog posts before launching online course and share essential information in it
Share posts regarding your content on social media to reach out to a mass audience
Feature the teaser on your website and different channels to spread the news
Launch an event and gather students and course authors to promote your course
With a lucrative teaser, you are not only promoting your course. You are also providing a detailed preview of how valuable the course material will be.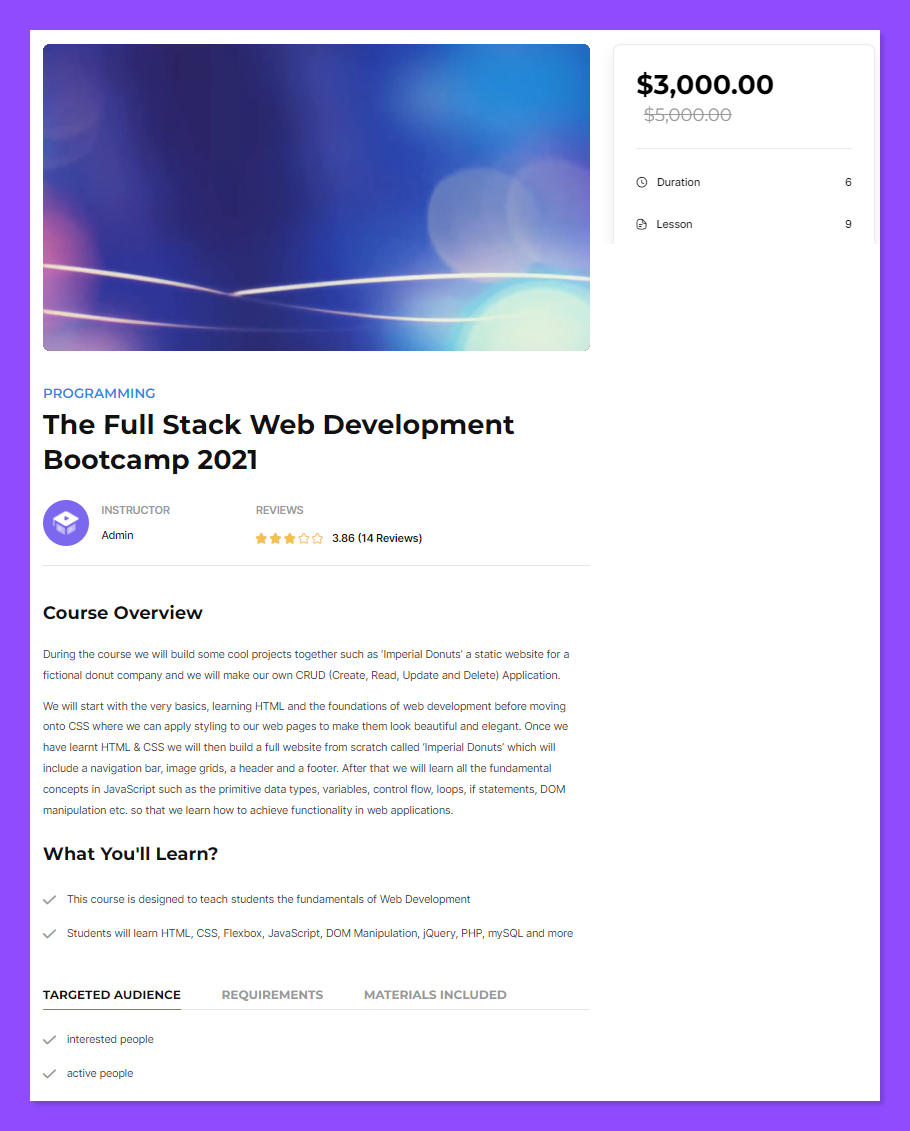 Thanks to the Academy LMS, which enables you to create comprehensive course pages. As a result, you can present a preview of your course to the audience using your preferred design style.
Additionally, you don't need to worry about the SEO of your course page. Academy LMS is flawlessly compatible with Rank Math and Yoast SEO. As a result, you can optimize the course material for the search engine.
Note: Don't forget to check out Academy Elementor Addon, which will enable you to choose demo templates for your course pages. You can also implement your creativity and design a course page using the powerful Elementor page builder.

Pre-selling Course Before Launching
If you analyze the market, you will see that other participants use the same approach. Before allocating the necessary time and resources, pre-selling a course helps to confirm if there is a market for it. Additionally, it provides revenue for the expansion of the course.
Create a course by providing the Title, Course description, and fee for the upcoming course. To create a sense of urgency among the students, make it accessible for purchase before the debut date with limited student registration.
Using the course settings option of Academy LMS, you can simply restrict the number of students who can enroll in a certain course. You can go through the course creation process of Academy LMS and learn more.
Offering Discounts To Help Them Learn
It's the education you are spreading and the knowledge you are selling through your eLearning platform. So, let's offer discounts and help more students to learn rather than only focusing on sales. Offer discounts for the students and let them learn, and your income will grow automatically.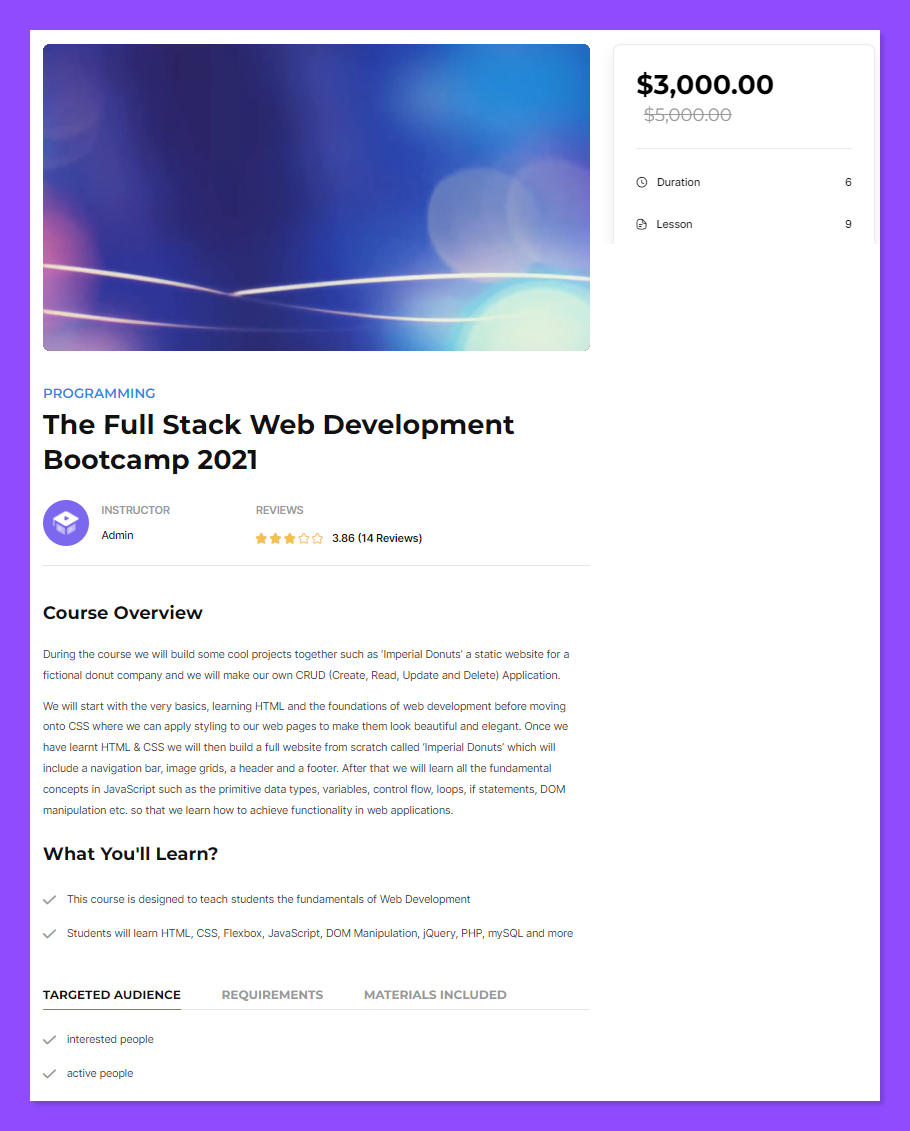 Sometimes the demand of the course itself motivates students to enroll in the course. But you can make the offer even more enticing by offering a discount.
Academy LMS allows you to set the monetization plan flexibly with the power of WooCommerce. You will get easy digital downloads, a Pro membership, a display course as a product, and more options. The plugin ensured both flexibility & scalability by allowing multiple payment gateways.
If you have WooCommerce installed on your WordPress site, simply set the discount pricing for the course and close the purchase with an alluring discount.
Launching Online Course at The Right Time
There is always the right timing for everything!
Launching a course at the right time is crucial if you want to get the desired sales outcome. Make a thorough market analysis and list the days, occasions, and special events. You may improvise and find out more days on your calendar to launch your course.
Here are some of the best timing for selling a course online:
January – A fresh start of a year and best for self-improvement
September – Marks the beginning of the transition from summer to a regular routine.
November & December – Many individuals become aware that they have failed to meet some goals for the year. It motivates them to enroll in online courses.
Avoid launching online course on busy delivery dates or over significant holidays. Because on significant holidays, your crew or prospective students may be absent.
Marketing With Email
Why not some email marketing?
Spread the announcement of your online course with some email sequences. Educate and attract your audience and subscribers about your course through email. You can follow the
Spread the announcement of your online course with some email sequences. Educate and attract your audience and subscribers about your course through email. You can follow the recommendations we've mentioned below:
Keep your email short & simple yet effective
Insert a call-to-action in your email that is worth clicking
Add highlights, curriculum specifics, and advantages of your offered course
Create a compelling subject line that has an appeal to grab the reader's concentration. Visually represent your course with images to hold your attention. Create a story about how your course is going to solve a student's problem or enhance their knowledge. Create a beautiful CTA and provide it with links to more pages on your LMS website.
Making Post-Launch Strategies
Your work is not over yet, and the effort should not stop right here. There should be more fun after this. You must also prepare for post-launch interaction in order to keep users' attention for a long time following the debut.
You may have made a sale after launching online course through your site. But you shouldn't abandon your students and customers as soon as they sign up for your course. You have to lead and manage them through your site with repetitive exercises.
Academy LMS comes with a pre-built email notification feature that will provide every update regarding courses to the students and instructors.
Final Words
You should settle on your tactics before launching online course since they will greatly impact sales outcomes. We strongly advise you to follow the route we've mentioned above.
As a result, you will undoubtedly see an improvement in your eLearning site's traffic and revenues. Please feel free to contribute other strategies in the comments area. Wish You All the best for your upcoming launching program.
Let's follow the strategies mentioned above and implement them before launching online course via Academy LMS. We hope to work together and launch your courses at your eLearning site successfully. Join us on our Facebook Community and also, you may follow us on Twitter.
FAQs About How to Launch An Online Course
How do I launch an online course?

To launch an online course, you first need to determine your course topic and create the course content. Next, you'll need to choose a course platform to host your course. Finally, you can promote your online course and launch it to potential students.

What are the best practices for launching an online course?

Some best practices for launching an online course include creating a compelling course sales page, using a launch email sequence to build excitement, ensuring your course content is high-quality and valuable, and announcing your course launch to your audience.

How can I create and launch my first online course?

To create and launch your first online course, start by brainstorming a course idea that you're passionate about and that has market demand. Then, create an outline for your course, develop the course content, and choose a suitable online course platform to host your course. Finally, promote your course and launch it to your target audience.

What is the importance of choosing the right course topic?

Choosing the right course topic is important because it determines the target audience for your course and its market demand. A well-selected course topic will attract more students and increase the chances of a successful course launch.

How can I ensure a successful online course launch?

A: To ensure a successful online course launch, you should have a well-planned launch strategy in place. This includes creating a compelling course sales page, building anticipation through pre-launch content and emails, and implementing effective marketing techniques to reach your target audience.

What is the role of a course platform in launching an online course?

A: A course platform is essential for hosting and delivering your online course to students. It provides the necessary tools and features to create, market, and sell your course. The right course platform can greatly simplify the process of launching and managing your online course.

How can I promote my online course?

A: There are several ways to promote your online course, including using social media platforms, creating engaging content related to your course topic, collaborating with influencers in your niche, running paid advertising campaigns, and leveraging your email list. It's important to have a comprehensive marketing strategy in place to effectively promote your course.

What should I include in my online course launch checklist?

A: Your online course launch checklist should include tasks such as creating a course sales page, developing a launch email sequence, testing your course platform, setting up payment options, creating promotional materials, and scheduling your launch date. It's important to have a step-by-step checklist to ensure nothing is missed during the course launch process.

How can I create a successful course outline?

To create a successful course outline, start by clearly defining the learning objectives and outcomes you want your students to achieve. Then, organize the course content into logical modules and lessons. Make sure the course flow is smooth and the content is structured in a way that is easy for students to comprehend and apply.

How do I sell my online courses?

A: To sell your online courses, you need to have a compelling course sales page that highlights the benefits and value of your course. You can also use email marketing to reach out to your audience and offer special promotions or discounts. Leveraging social media platforms and collaborations with influencers can also help you increase course sales.

What is the right time to launch an online course?

The month of January, September, November, and December are the right time for launching online course. But you can explore your timing for launching courses online.

Should I offer discounts while launching online course?

Yes, of course. Offering discounts to open a doorway to education will bring you more revenue. Moreover, discounts are always loved by people. With academy LMS, you can easily offer discounts on your courses with the added functionalities of WooCommerce.

Can I create Teasers to highlight my Course Overview with Academy LMS?

Academy LMS allows you to showcase your courses with three pre-built templates available in Academy Elementor Addon. Also, you can create your own design for the course page.