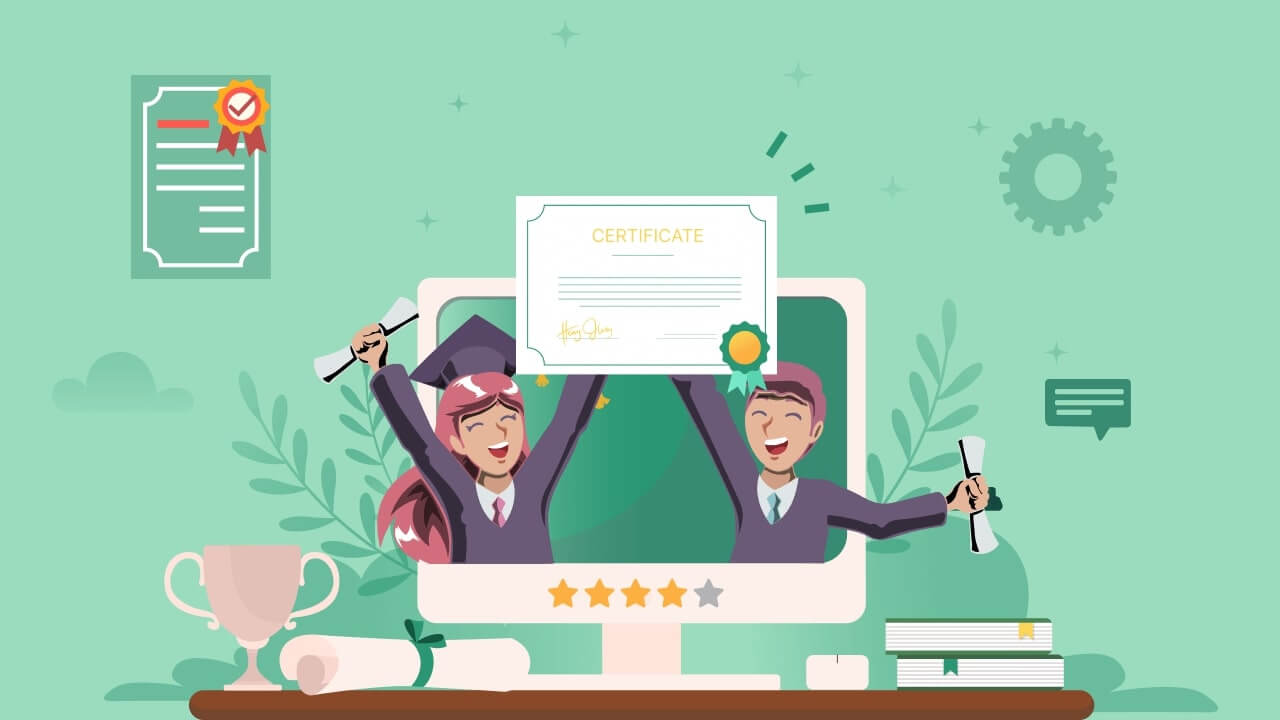 Announcing Academy LMS Certificate Builder
Your eLearning site is up and running with an LMS, and your students have passed successfully. What should be the next step? Well, you should consider recognizing your students with a credential verifying their achievement. This is where the Academy Certificate builder comes in that works alongside Academy LMS.
In Academy LMS, we have crafted the next-generation WordPress learning management system plugin. We are updating our plugin regularly and adding exceptional features to it. To recognize the successful student's achievement, we've come up with an amazing add-on. We are delighted to announce the Academy Certificates.
Academy Certificates Addon offers a unique drag & drop certificate-building experience which is user-friendly. Our developer's team researched the renowned LMS platforms and explored that most of them provide certificates to their students upon course completion. As a result, our WordPress expert team accepted the task and successfully created the Academy certificate builder that gives you all the flexibility to create the perfect certificate for your students.
Academy LMS Certificate Builder Available Now
We are thrilled to announce the Academy LMS Certificate – the fruit of our labor over the last several months. You can now build certificates from your own WordPress eLearning site and provide them to your students. Now you can generate different types of certificates from your own WordPress eLearning site that can be sent to your students.
We wanted to provide a unique experience of creating certificates with the LMS certificate builder addon. The simple drag & drop features will give you the easiest process of creating a professional certificate. You can now forget about customizing your certificate manually. You will get premade templates and can also create your preferred design.
We also took care of the share option so that students can share their certificates online. Moreover, download and print options are also available for learners. You can do all this from your eLearning site's dashboard, which is amazing.
Our Motivation Behind Academy LMS Certificate Builder
Previously, creating a certificate was a hassle when Academy LMS didn't have an LMS certificate builder add-on. That is because users had to rely on third-party plugins to build certificates. There were compatibility issues with third-party tools, and creating a certificate was complex.
Since we added the Academy Certificate builder to our domain, users can easily create, modify, and submit certificates. Also, modifying a template was difficult because users had to have some technical skills or specific knowledge. But that is not the case anymore because we tried to bring in all the features in this certificate builder that will minimize your effort.
Academy LMS Certificate Builder on WordPress
The installation process of the Academy Certificates addon is simple and similar to any other WordPress plugin out there. You can install and activate the plugin directly from Add New plugin section of the dashboard or upload it after downloading it from the plugin section of WordPress.
With Academy Certificates addon, you are getting the following advantages:
Free Certificate Builder alongside the Academy LMS plugin
Opportunity to Create, modify, and instantly provide certificates to the learners
Drag and Drop elements on prebuilt certificate templates
Download, share, and print the certificate from the dashboard
Maintain student retention by recognizing their success via certificates
Since you've learned about the advantages, you should explore the features of this amazing addon. With the user's convenience in mind, we've included the following features in Academy LMS certificate builder:
Pre-built & Customizable Certificate Design
The current Academy LMS certificate builder version offers a pre-built template built from the ground up. With this template, you can create any kind of certificate, whether for a student's learning or corporate training program. Academy LMS certificate builder has all the features to create a certificate that learners will love.
The users always appreciate automated templates since it minimizes time and effort. That is why we are currently working on creating more templates that will surely win your heart. In our future update, we will introduce users to those templates.
Create Your Own Template
One of the essential parts of this LMS certificate addon is the complete control you will get when creating a new template. All the elements, layouts, fonts, and options are readily available, usually requiring you to craft a certificate from scratch.
Let's explore the steps you must go through to create your certificate template.
Set a Title For the Certificate
The first step toward creating a new template is to provide a title for it. You can provide any title for your certificate, but it must be meaningful. Setting a title is important to identify for which course or student it was created.
Set Your Own Certificate Image
You can set your own Certificate image, which is an amazing feature offered by the Academy LMS Certificate builder. Simply design your own background image for the certificate or download it from online resources.
Upload the certificate image on your dashboard and set it as your certificate background. This feature gives you huge customizability since you don't need to build everything from scratch but still get a lucrative certificate background ready.
Draggable & Interactive Certificate Components
You will be pleased to learn that the Academy LMS Certificate builder will provide you with a variety of elements that you can utilize to construct a certificate. That is why creating, editing, and modifying the certificate from scratch or from a pre-built template has become easier than before. So, here are the elements and the actions that users can take using the Academy Certificate builder plugin:
Setting Position
You can set the position of all the essential elements of the certificate. From this LMS certificate builder settings, you can change the position of the
Heading (Title of the Certificate)
Message (Body of the Certificate including the student name)
Course Title (Course Name)
Course Complete Date (Course completion date )
and Course Place (Course place or organization name)
All the above-mentioned elements are draggable, and you can put these elements in your preferred position in the certificate. There is an option to remove the element's position if you are not okay with it.
However, we recommend you place these elements where it makes sense to do so. You can simply left-click the mouse and drag the position of these elements on the certificate image. Here is a demonstration of the position which you can drag and set around your certificate:
Typography Options
An Academy LMS certificate builder gives you featureful typography options that are easy to understand and apply. You can set your preferred typography for any components, including Default, Heading, Message, Course Title, Course Complete Date, and Course Place. From the typography option, you can take the following actions for your entered texts:
Select a Font Family (Helvetia, Courier, Times)
Insert a Font Size
Make the text Bold
Make the text Italic
Center Align your text
Create a Border around the text
After setting the Typography option, it's time to head to the next option. Keep in mind that you can change the typography of your certificate anytime while creating the certificate.
Text Color Adjustment
You can adjust the text colors of your certificate by navigating the color option of every element. By elements, we mean the color of the texts in the certificate can be modified. By setting the color for each text, you are not only beautifying the certificate but also differentiating each text element.
You can set the color by putting in the color code. drag and set the color option and choose from the default color option. We recommend you set colors according to the type of background image and certificate that you are creating.
Remember that too much use of color combination in a certificate will reduce its appeal significantly. Therefore, we recommend using colors that will make your certificate naturally eye-catching.
Setting the Text
You can write down the required texts for your certificate using the text element. You can place the text element anywhere in the certificate since you can move it along with the draggable elements, including:
Heading: Certificate of Completion / Certificate of Achievement / Certificate of Appreciation
Message: Insert body text of your certificate
Course Title: Insert the course name on his
Course Complete Date: Provide the course completion date
Course Place: provide the name of the place or organization where the course was taken
Download & Print a Certificate
Academy LMS certificate builder allows students to download and print their certificates. This is a huge step forward because after successfully completing a course, students will receive a certificate. Instructors and admins can provide certificates from their dashboards, and students can get certificates from their dashboards.
Students only need to log in and choose the course that they successfully finished from the dashboard menu. Then students will get a Download Certificate option on that course-related page. They can easily download the certificate and also print or share it on social media.
Let's take a closer look at the following example where you will be able to view a fully completed certificate with the download and print option:
If you are still with us, we assume you've already explored all the features on your WordPress site. We offer thorough documentation, so you won't need to worry if you're confused about any of our features or have trouble comprehending them.
Final Thoughts
After creating the certificate, it's ready to be utilized by the Instructor of your eLearning site. Once you enable the LMS certificate builder addon on your site, it integrates perfectly with Academy LMS. Therefore, teachers will be able to inspect the certificates and choose from the ones that are offered for a certain course.
One thing that makes us different from others is the free features Academy LMS Certificate builder provides. We've made it free in contrast to the majority of certificate builder plugins, which must be purchased in order to be activated and used. As a result, Academy LMS users can now easily build their dream eLearning website with added features and a limited budget.
Things to Know [ FAQ ]
Is Academy Certificate Builder a paid plugin?
Academy LMS Certificate builder is a completely free-to-use plugin that you can use after installing the Academy LMS plugin. You don't even need the pro version of the Academy LMS plugin to install and use the Academy Certificates Addon.
Are there any pre-built templates on the Academy LMS Certificate builder?
Currently, we have included one pre-built template with minimal design. Because of this, you may create any kind of certificate that is appropriate to present to a student. But in the coming days, we are going to add more exclusive templates.
If I install Academy LMS, would Academy Certificates be installed automatically?
Well, to get the Academy Certificates addon in your WordPress LMS site, you need to install it separately. However, installing Academy LMS is a requirement for this plugin and must be done before installing the addon.
Is there any documentation available for this add-on? Of course, you will get detailed documentation on this plugin which gives you every detail on the Academy LMS Certificate builder.
Now it's your turn to build an amazing certificate using the Academy LMS Certificate Builder. We hope you've learned a lot about creating a certificate for your eLearning site with us. If you have further queries, feel free to join our Facebook Community and subscribe to our YouTube channel to learn more about Academy LMS. Also, you can follow us on Twitter.