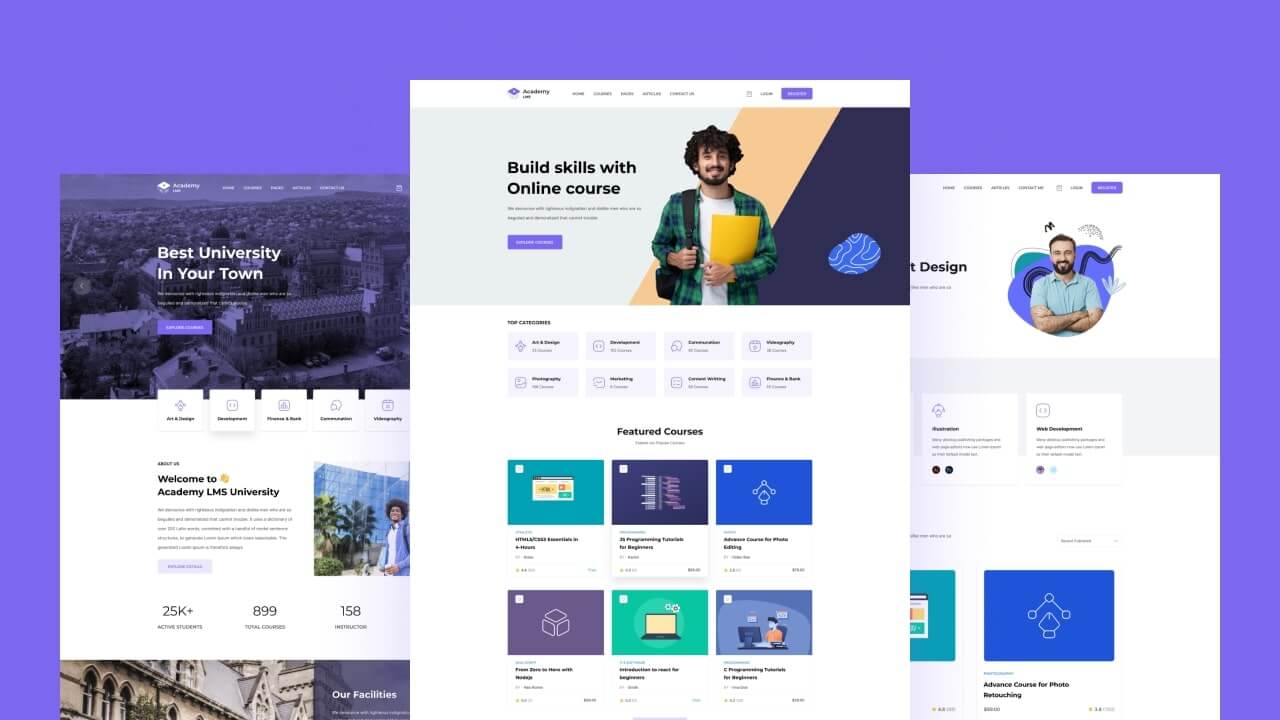 Free LMS Website Templates for WordPress
Are you looking for the best WordPress LMS website template for your eLearning site?
Starting to create a WordPress LMS site is easy, but creating a functional and beautiful eLearning website can be quite daunting. But with the help of LMS website templates, you can create your amazing website with ease and in no time at all.
Here, we discuss some of the top LMS website templates that you might want to use for your LMS website.
Why Use a Template?
If you don't have the money to pay a custom web design company to design your website, then you can always use a WordPress website template. WordPress is free and the most popular content management system in the world.
A website template is the best way to get your website up and running in just a few moments. This way, you can get your business online and start making money as soon as possible.
Web templates are great for beginner website owners who are not really into coding. In no time, you can launch a fantastic website.
Your website is the first place that visitors stop and decide whether your website is the right place for them. You can use these templates to make a first impression and to build a functional and beautiful website.
E-Learning website templates are one of the most accessible and affordable ways to get a professional-looking website for your e-Learning business.
How to Choose the Right LMS Website Template
A professional website does not require you to be a skilled designer or developer. With the help of ready-made website templates, you can now create professional websites with little or no prior understanding of web design.
As you begin your adventure of creating an outstanding website using LMS website templates, your first hurdle will be choosing which template to use.
There are so many alternatives that choosing the perfect LMS website templates might be difficult, especially if you are a newbie. Here are some pointers to help you select the ideal fit for you.
8 Tips for Website Template Choosing
Identify the type of website you are creating.
Find out which website design you like.
Consider all costs and don't compromise on paying for quality.
Give it some time.
Look for options for customization and flexibility.
Responsiveness is the only option.
The customer support and template provider should be known.
Look for templates that are SEO-friendly.
That's it! You ought to have a solid understanding of your LMS website template after following these tips.
Now we will discuss the best LMS website templates based on the above tips. These LMS website templates will help you build an LMS website very easily in a short time.
Academy Starter Templates - One Click LMS Website Template
When you install Academy LMS and then worry about where and how to start building your LMS website, and how much time will it take to build?
Don't be concerned about creating your online educational website because the Academy Starter Template is the one-click solution to your problem. Use the Academy Starter template to build a website that includes everything you need for your eLearning platform.
With the free Academy Starter LMS Website Templates, you can quickly and easily construct a fully functional and optimized eLearning website with a single click.
The Academy Starter Template is an Academy LMS one-click demo importer extension. It enables you to construct a comprehensive and professional-looking website in minutes. You will receive all of the features and sections required for an eLearning website.
Other LMS website templates for WordPress are rarely available with a bad experience, but the Academy Starter Template is simple to use and edit. Furthermore, the Academy starter template was created with educational websites and eLearning systems in mind. You can change the color scheme and font of the entire site with a few mouse clicks and keystrokes by using LMS website templates of Academy starter templates.
Simply select the most suitable LMS website templates for your needs, and import, update, and publish your site! We have a complete guide on how to use the Academy Starter Template. Read the documentation and see how easy it is to use.
You'll get three different templates: (1) Marketplace, (2) University, and (3) Instructor. However, we are working to grow this collection and include new LMS website templates that will undoubtedly help all types of online learning systems.
When you begin utilizing the Academy's beginning design, you will have all of the pages for your site ready. To accomplish your aims, we've added ten critical web pages to our template library.
These templates will have the following pages:
Home page for- (University, Marketplace, Single Instructor)
Courses
About Me
About Us
Instructor
Instructor Registration
Student Registration
Contact Us
FAQ
The Academy Starter Templates demo importer is quite useful. All pages, settings, and the entire website will be ready once you click the import button. The website functions well and without issues after importing the layout. So, after you've decided on a template, you're only one click away from having a completely working site.
We're obsessed with website performance, so we've integrated every LMS feature into this plugin. All of our starter templates are designed to match your needs, and this one is very SEO-friendly.
So if you don't want any extra hassle or want to pay a professional to build your LMS website, then you can consider using this free WordPress LMS website template.
And our happy users don't need to go anywhere for the LMS theme because we have our own Hello Academy theme for our users.
Final Thought
You used to think that creating a WordPress LMS site was a hard task, but now you may understand that with the help of the Academy starter template, you can create a WordPress LMS site in a minute.
We hope you enjoyed our article about LMS website templates. We would love to hear your thoughts on the topic, so please leave us a comment in the box below. In the meantime, if you're interested in learning more about building a WordPress LMS site, please join our community on Facebook and follow us on Twitter.
FAQ – Frequently Asked Questions for Template
Why are Templates Important?
A template is important because it saves you money and time. The experience and expertise of a professional template designer will ensure that the template you use is well-designed, professional, and easy to use. These templates will help you stand out from the crowd and give your business a professional and cohesive look, as well as a distinctive brand.
What are the Benefits of Templates?
There are many benefits of using a template. It will save you from all the frustration of trying to create an original design that looks good and meets the needs of your customer. A template will help you get to the end result faster and more efficiently.
Where Can I Find Free Templates?
There are several places where you can download free templates, but
WordPress.org
is best for your LMS website. And one more thing Academy starter templates are absolutely free to download and use. There is no hidden or open charge for our Academy starter templates.